Chipotle Chili Recipe
Hacking Chipotle's Top-Secret Chili Recipe
POPSUGAR Food's Chipotle Chili Hack
This is the story of how two food writers so loved a chili recipe, they sought out to re-create it at home, with no recipe or guidelines other than the memory still lingering on their taste buds.
It was the end of the day at the New York City Wine & Food Festival Grand Tasting. POPSUGAR Food editor Susannah Chen and I wearily made our way to the Chipotle stand to seek refuge from the onslaught of cupcake-infused vodkas and countless tomato sauce tastings. We knew whatever Chipotle cooked up would perk up our fatigued palates, and sure enough, as soon as we saw smiling Chipotle servers doling out steamy bowls of chili off the stainless-steel countertops, we made a mad dash.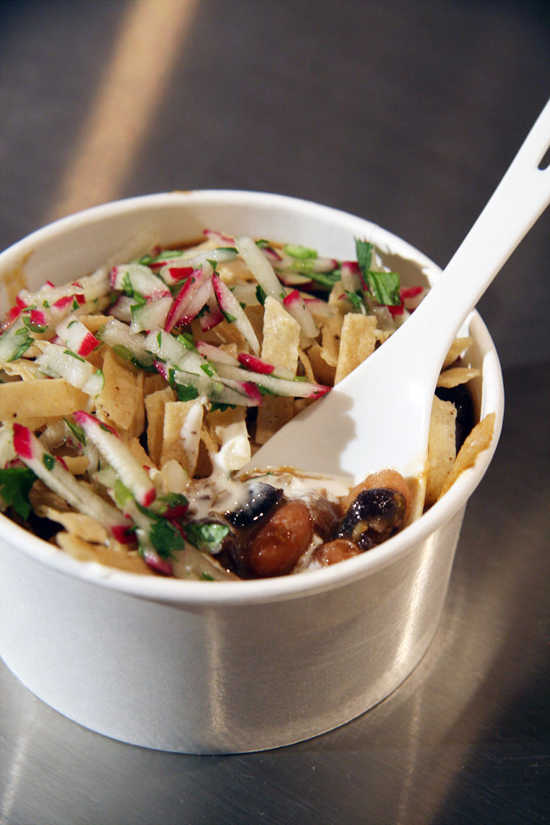 The Original Chipotle Chili
The chili was a godsend on a bone-chilling day in New York City. Susannah and I quickly gobbled down our piping-hot bowls of chili, only breaking the silence with our intermittent exclamations of phrase like "Oh. My. God." and "Wow. Mmm-hm." Once we finished our bowls, we eagerly asked the Chipotle employees, "When can we expect this amazing chili to hit restaurants?" The employees chuckled and said, "Sorry gals. Don't expect this to be out anytime soon. If anything, we might release it to one or two locations in DC."
Our hopes of round two chili were almost crushed! Luckily, Susannah pressed on: "Well, what exactly is in this recipe?" The employee, hesitant to reveal Chipotle recipe development chef Nate Appleman's secret ingredients, replied, "If you combine Chipotle's barbacoa, pinto beans, and black beans, then you're halfway there." It was enough information to give us a jumping-off point. Susannah and I looked at each other and in jinx-like manner screamed, "Recipe hack!"
So allow me to present to you the POPSUGAR Food Chipotle Chili recipe hack, which was made in our office using a single electric stove-top burner and a nonstick soup pan. We tortured our co-workers with this dreamy clove-and beer-scented chili bubbling in the kitchen for hours, as the starches in the beans broke down to create a thick, unctuous mixture. Finally, the moment had arrived for the taste test.
Admittedly upon first bite, Susannah and I couldn't determine whether or not we had accurately hacked chef Appleman's recipe, but we knew we had made something good. The Texan in me comes out when I emphasize real good. The caramelized onions add a sweetness to the acidic tomato stew. The dark beer and cloves subtly boost the flavor of the chili, giving it that indescribable je ne sais quoi, or yo no sé lo que, since this is a Mexican dish after all. The salty, spicy broth soaks into the barbacoa beef and beans, and the crunchy radish and chip topping keeps the overall texture interesting and diverse.
Upon the first spoonful, several tasters broke down and could hardly stutter more than "Oh wow." and "Best. Chili. Ever." We think this story has a happy makeshift ending, but until Chipotle makes our chili dreams come true by putting this item on menus across America, we'll have to resort to cooking up our own Chipotle chili recipe hack.
Chipotle Chili Hack
Inspired by Nate Appleman
Ingredients
Canola oil spray
1 onion, small dice
4 garlic cloves, minced
1 tablespoon chili powder
1/4 teaspoon ground cloves
1 bottle dark beer, like Negra Modelo
2 cups vegetable or beef stock
1 4-ounce container Chipotle Tomatillo-Green Chili salsa
1 4-ounce can diced green chiles
1 can fire-roasted tomatoes
1 cup Chipotle pinto beans
1 cup Chipotle black beans
1-2 cups Chipotle barbacoa beef
Salt, to taste
Cayenne pepper, to taste
1 4-ounce container Chipotle sour cream, for garnish
2 cups breakfast radishes, finely julienned, for garnish
Chipotle lime chips, crumbled, for garnish
1/2 bunch cilantro, chopped, for garnish
Directions
Preheat a soup pot over medium high. Spray neutral oil like canola and allow oil to heat through. Add onion, and cook for 30 minutes, or until onions are caramelized. Add garlic, chili powder, and cloves and cook for 1-2 minutes, or until fragrant. Add beer and bring to a boil, cooking until liquid almost evaporates, about 10-15 minutes. Add stock, salsa, green chiles, tomatoes, beans, and barbacoa. Cook and reduce liquid for 30 minutes to an hour, or until chili becomes thick enough to your liking. Salt and sprinkle cayenne pepper to taste.
When serving, top chili with sour cream, radishes, chips, and cilantro to your liking.
Serves 3-4.
Information
Category

Soups/Stews, Chili

Cuisine

Mexican