Chipotle's ShopHouse Expansion
A Taste of Chipotle's ShopHouse Southeast Asian Kitchen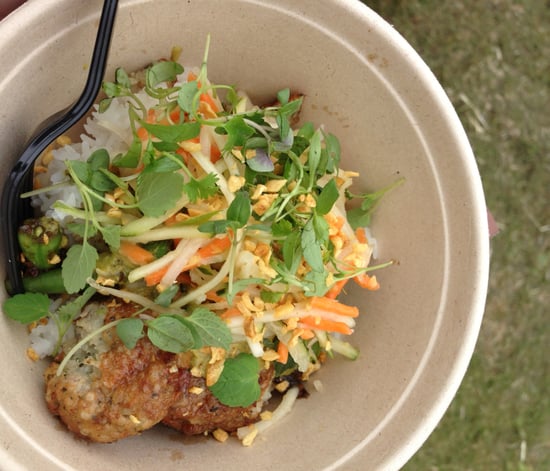 Chipotle's not just making burritos; for a couple of years now, it's also been serving Asian-inspired meals with sustainable ingredients under the Washington DC-based concept known as ShopHouse Southeast Asian Kitchen, and at this past week's Cultivate Festival, Chipotle offered San Franciscans a taste. The concept, which currently has one location only, offers build-your-own bowls with a variety of elements, from noodles and rice to stir-fried vegetables and crushed peanuts. To learn more about the ShopHouse philosophy, expansion plans, and our tasting notes, keep reading.
Although ShopHouse came to fruition in 2011, Chipotle has been slow to expand the concept. It's finally debuting a second location across the country, in Hollywood, CA, on June 17.
"We waited almost two years to open a second restaurant," said culinary manager Nate Appleman. "When we opened ShopHouse, we spent the time, money, and resources to study it, look at it, and develop it fully. Now we're ready to expand. Hopefully that will go well. Then we'll open a third and a fourth, and — I don't know — maybe 4,000." In the meantime, until ShopHouse goes nationwide, it will be previewing its offerings at its Cultivate festivals in Denver and Chicago.
As for the bowls, the ShopHouse team was swiftly serving colorful curried pork and chicken meatballs with jasmine rice, green beans, green curry, green papaya slaw, and crispy garlic to a long line of eager eaters. The tart slaw, foiled against the savory-sweet meatballs, herbs, and crunchy garlic, seems approachable even for those who don't frequent Asian restaurants. The dish was discernibly fresh, and hit upon a multitude of flavors and textures at once.
Have you tried ShopHouse or any of the other recent Southeast Asian additions to the fast-casual restaurant scene?