Chipotle Sofritas Taste Test
Chipotle's New Vegan Sofritas: Tofu or Snafu?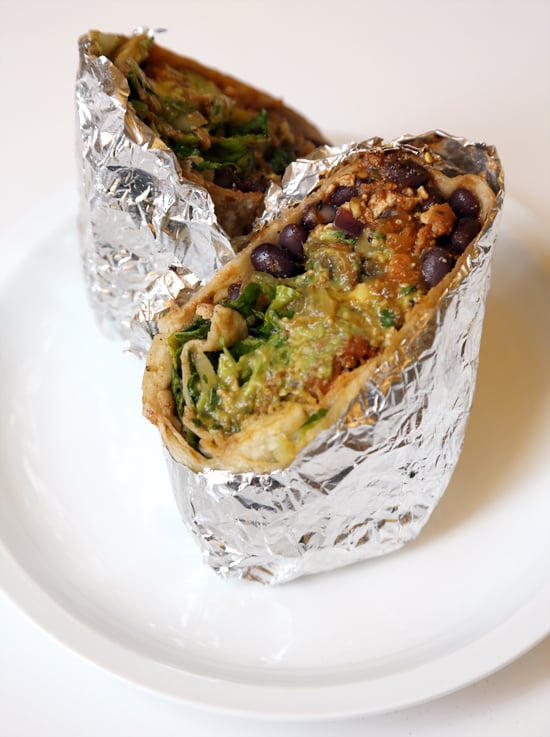 While it's always been easy for vegetarians and vegans to order at Chipotle, the burrito chain has rolled out yet another meat-free option to pilot locations in Northern and Southern California: Sofritas, shredded Hodo Soy tofu marinated in a spicy sauce made from chipotle chiles, roasted poblanos, and Mexican spices. Being fans of both Chipotle and Hodo Soy tofu, an Oakland-based brand that stocks the restaurants with the soy product, we tried Sofritas for ourselves. See if it's worth ordering.
When I ventured into the Chipotle line, the two guys ahead of me ordered Sofritas, which led me to believe the new item is popular and in high demand. Sofritas looks like scrambled egg whites and is drenched in a tomatoey rancheros-like sauce, which could be a great thing in a salad or in crispy tacos, but inside a burrito, the juices ran wild and made the burrito look overly wet and squishy.
I took the burrito back to the office and split it with the food team. As we took our first bite, our initial reaction was to reach for our water bottles, not because the flavor was bad, but rather because the Sofritas was overwhelmingly salty. Texture and flavor-wise, Sofritas tastes like tofu skin. It's chewier than your run-of-the-mill tofu, which is a good thing, but it certainly does not try to imitate meat. Sadly, we had more beef with this new Chipotle menu item. In trying to make Sofritas taste peppery and spicy (rather than like tofu), Chipotle's Sofritas masked the other amazing flavors in the burrito, like the salsa, guacamole, and beans. Also, if you're not a fan of spicy, then beware! Sofritas will make your mouth burn. While we're not sure if Sofritas is made daily at each location or at a Hodo Soy factory, it was simply way too salty to be palatable.
For those who eat meat and are trying to reach for a healthier option, the salt content in Sofritas may make you think twice. Vegetarians: yes, this is a fun and exciting new menu option, but guess what? Unlike the standard veggie burrito, in Sofritas orders, guacamole is not included and costs extra. We've decided we're chucking out Sofritas in favor of the vegetarian burrito. Thanks, Chipotle, for your attempt to make another vegetarian option, but we think you need to reevaluate the salt, sauce, and spice content before expanding the product nationwide.