Chocolate Chicken Recipe
Whoa! Cocoa Coq au Vin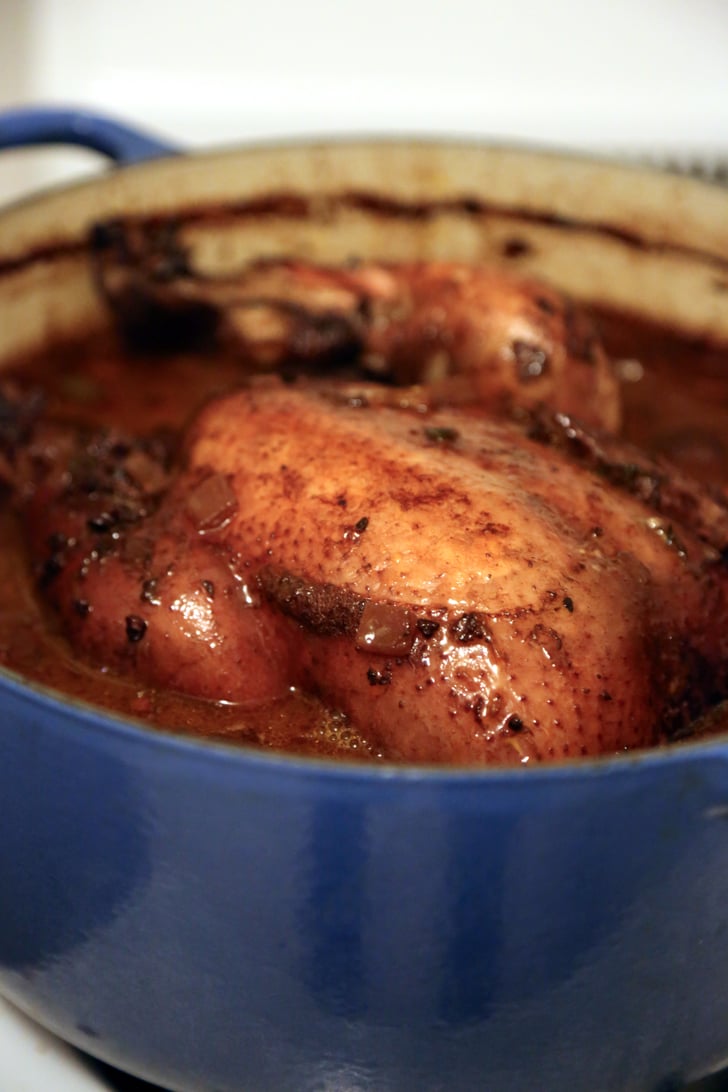 Mast Brothers Chocolate — an artisanal, bean-to-bar chocolate company in New York's Brooklyn borough — released its first cookbook last week, entitled Mast Brothers Chocolate: A Family Cookbook ($40). Flipping through the thick pages and stunning photography, you'll see recipes for rich chocolate desserts like ice cream and soufflé, but prepare to be truly mesmerized by the savory chocolate recipes like chocolate scallops and cocoa coq au vin.
Coq au vin, or chicken with wine, is a classic French dish, where a whole chicken or rooster is braised in a red wine sauce. This particular recipe calls for the addition of cocoa nibs, cocoa powder, and dark chocolate.
Click here for the full recipe.
The sauce, loaded with whole mushrooms and pancetta, reduces down into a thick gravy that I admittedly slurped up like soup before adding the chicken. In case you're wondering, the dark chocolate and cocoa nibs add a hint of tannic, bitter, and roasted flavor to the red wine sauce.
If you love thyme, then go ahead and sprinkle another teaspoon in the pot. The thyme flavor is extremely subtle in this recipe, and mine could have used a sprig or two more.
The chicken will come out of the oven falling off the bones. Serve it over rice with several ladles of the red wine sauce.
Notes
This recipe will take a few hours, so make it for dinner on a leisurely day off or a weekend.
Ingredients
Marinade
1 medium onion, chopped
3 cloves garlic, chopped
1/2 cup cacao nibs
1/2 (750 mL) bottle red wine
1 (4 pounds) whole chicken
Coq au Vin
1 medium onion, chopped
3 cloves garlic, chopped
4 stalks celery, chopped
2 carrots, peeled and chopped
4 ounces pancetta, cubed
2 tablespoons unsalted butter
2 tablespoons all-purpose flour
3 tablespoons tomato paste
8 ounces mushrooms (morels and/or champignons)
1 (750 mL) bottle red wine
4 cups chicken stock
1 cup cacao nibs
1 ounce dark chocolate, chopped
1 tablespoon cocoa powder
1 teaspoon fresh thyme, leaves only
2 bay leaves
1 teaspoon sea salt
1 teaspoon black pepper
Directions
To make the marinade: In a bowl, stir together onion, garlic, cacao nibs, cocoa powder, and red wine.
Put chicken in large ziplock bag with marinade. Refrigerate overnight (or two hours minimum).
To make the coq au vin: Preheat oven to 400ºF. In a large stockpot over medium heat, sweat onion and garlic in butter until translucent. Add pancetta, and cook until lightly browned. Add carrots, celery, and tomato paste, and stir. Add mushrooms and red wine, and stir. Add flour, and stir. Cook until liquid has reduced by half. Add chicken stock, nibs, chocolate, cocoa powder, thyme, bay leaves, salt, and pepper, and stir. Remove chicken from marinade, and add to the pot. Discard marinade.
Place uncovered pot in oven for 20 minutes. Lower oven temperature to 325ºF. Cook for one more hour or until internal temperature reads 165ºF.
Information
Category

Poultry, Main Dishes

Cuisine

French

Yield

4 servings