Chocolate Fondue Tips
Make Flawless Chocolate Fondue This Valentine's Day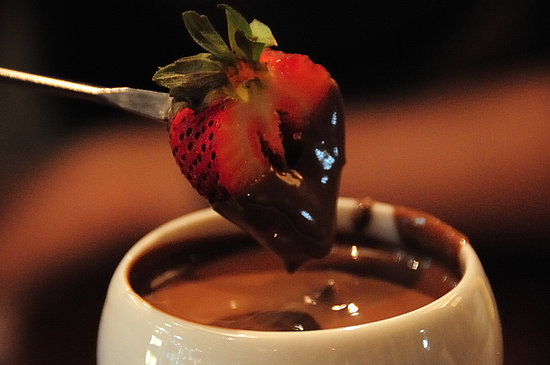 If you're celebrating Valentine's Day this year with a romantic night in, consider serving one of the world's sexiest foods: an interactive, dip-and-devour chocolate fondue. Although the Alpine tradition began with melted cheese, the chocolate dessert variation is an easy, affordable, beginner way to start making the fancy stuff at home. Turn pro with chocolate fondue when you keep reading.


Begin with quality chocolate; the better the ingredients, the more outstanding your fondue will be. Always melt the chocolate over low heat to avoid scorching.
Even if you're serving the chocolate in a fondue pot, the dish is easier to manage if you melt the chocolate first over the stove, then transfer it to the fondue pot. If you're serving fondue out of a regular pot, be sure to place it atop a trivet.
Keep water or any moisture out of the melting chocolate pot; it will affect the molecular structure of the chocolate, causing it to develop a grainy texture.
For dipping, offer soft, crumble-proof goods that can be eaten in 1-2 bites. Always a good bet: homemade marshmallows, crisp rice squares, chewy cookies, or dried fruit.
Serving fresh fruit for dipping? Brush cut pieces with lemon juice to prevent oxidizing.
Salvage thickened or lumpy chocolate by stirring in a few teaspoons of vegetable oil.
Allow any burnt chocolate to remain undisturbed at the bottom of your fondue pot; scraping your food along the bottom of the pan will spread the taste of burnt chocolate throughout the pot.
Spice things up a bit with the following variations:
Create a toppings bar with jimmies, flaked coconut, toffee pieces, chopped nuts, and other excitement.
Change up the flavor with spices like cinnamon, vanilla bean, or cayenne; coffee grounds; or liqueurs like Grand Marnier.
Make a fondue gathering more fun by serving several fondues with different percentages of cocoa content, or with chocolates of differing origin. Or, if you've only got one fondue pot, pair it with several different wines.
Have you ever made chocolate fondue at home? If so, what are your pointers?
Source: Flickr User dawvon