Chocolate Mint Divinity Recipe
Come Party With Me: Holiday Open House — Dessert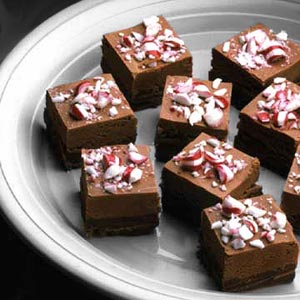 It doesn't matter what kind of party you're hosting, be it a brunch, dinner, or cocktail party, you should always offer dessert. Why? Because no soirée is complete, especially during the holidays, without a sweet finish! For a holiday open house where guests will be coming and going at different times, set out a platter of chocolate mint divinity. Divinity is a nougat-like confection that's made with egg whites, corn syrup, and sugar. With the addition of peppermint extract and crushed candy canes, this variation is a Christmasy twist on the classic divinity.
Prepare it up to three days in advance and store at room temperature. To check out the recipe, keep reading.
Ingredients
2 7-ounce bars milk chocolate
2-1/2 cups sugar
1/2 cup light-colored corn syrup
1/2 cup water
2 egg whites
2 squares (2 ounces) unsweetened chocolate, melted and cooled
1/2 teaspoon peppermint extract
1/4 cup crushed peppermint candies
Directions
Line a 9x9x2-inch baking pan with foil, extending foil over edges of pan. Butter foil; line with chocolate bars. Set pan aside.
In a heavy 2-quart saucepan combine sugar, corn syrup, and water. Cook over medium-high heat to boiling, stirring constantly with a wooden spoon to dissolve sugar. This should take 5 to 7 minutes. Avoid splashing mixture on sides of pan. Carefully clip candy thermometer to pan. Cook over medium heat, without stirring, to 260 degree F, hard-ball stage. Mixture should boil at moderate, steady rate over entire surface. Reaching hard-ball stage should take about 15 minutes.
Remove pan from heat; remove thermometer. In a large mixer bowl, immediately beat egg whites with a sturdy, freestanding electric mixer until stiff peaks form (tips stand straight).
Gradually pour hot mixture in a thin stream (slightly less than 1/8 inch diameter) over egg whites, beating on high speed and scraping bowl occasionally. This should take about 3 minutes. (Add mixture slowly to ensure proper blending.)
Add unsweetened chocolate and peppermint extract. Continue beating on high speed, scraping bowl occasionally, just until candy starts to lose its gloss. When beaters are lifted, mixture should fall in a ribbon, but mound on itself and not disappear into remaining mixture. Final beating should take 5 to 6 minutes.
Immediately spread over chocolate bars in prepared pan. Sprinkle with crushed candies. When firm, lift out of pan; cut into 1-inch squares. Store tightly covered.
Makes 81 pieces.

Make Ahead: Up to 3 days ahead prepare divinity. Store at room temperature in a tightly covered container.
Information
Category

Desserts, Candy

Cuisine

North American