Chocolate Peanut Butter Bar Recipe
Pack Chocolate Peanut Butter Bars For Your Next Picnic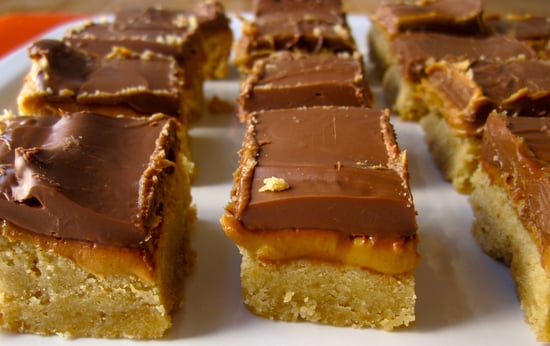 We're in the middle of picnic season, and if you're in need of a delicious crowd-pleasing dessert, make these chocolate peanut butter bars. They are surprisingly simple to bake, absolutely addictive to eat, and easy to pack and transport. The bottom is a brown sugar shortbread, the middle layer is creamy peanut butter, and the top is melted milk chocolate.
These bars can be made up to three days in advance, which makes them perfect for entertaining. Fans of salted desserts: I recommend sprinkling them with coarse sea salt; it takes these chocolate peanut butter squares to a whole new level! Check out the uncomplicated recipe now.
Ingredients
Vegetable oil, cooking spray
2 cups all-purpose flour
1 1/4 teaspoons coarse salt
8 ounces (2 sticks) unsalted butter, softened
3/4 cup packed light-brown sugar
12 ounces milk chocolate, melted
1 cup creamy peanut butter
Directions
Coat a 9 1/2-inch square baking pan with cooking spray. Line with parchment, leaving a 2-inch overhang on 2 sides, and coat parchment with spray.
Sift flour and salt into a medium bowl. Beat butter with a mixer on medium-high speed until fluffy, 3 to 5 minutes. With the mixer running, add sugar, and beat until pale and fluffy, about 2 minutes. Reduce speed to low. Add flour mixture, beating until just incorporated. Press dough evenly into pan. Cover, and refrigerate until firm, about 20 minutes.
Preheat oven to 300 degrees. Bake shortbread until golden brown and firm in center, 45 to 50 minutes. Let shortbread cool in pan on a wire rack.
Use parchment to unmold shortbread from pan, and trim edges to create a square. Spread peanut butter evenly on shortbread. Carefully pour melted chocolate over the peanut butter and spread evenly to cover. Cut shortbread into 1 1/2-inch squares. Shortbread will keep, covered, for up to 3 days.
Makes about 36 squares.
Information
Category

Other, Desserts

Cuisine

North American