Chocolate Souffle Recipe
A Double Chocolate Soufflé Challenge
I mentioned that I was going to attack one of my culinary fears head-on in the near future. Well, attack it I did and what's more, I came out alive, and covered in chocolate.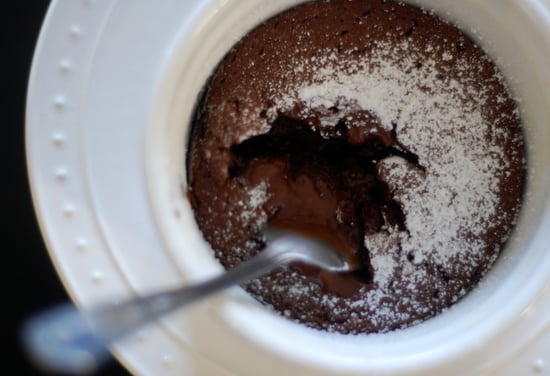 I found a recipe from Emeril that seemed straightforward and simple, bought the ingredients, and said a little prayer. Surprisingly, this recipe came together very quickly, and with almost no problems at all. The only hitch was that I wasn't sure how much the soufflé batter this would make, so the ramekins I used were far too large and the soufflé didn't puff up over the edges like I'd hoped it would. It would have been better to use four smaller ramekins or two large ones.


This recipe calls for Grand Marnier, which adds a nice bright orange flavor to the rich chocolate dessert. And when I say rich, I mean it. One spoon too many of this fluffy soufflé and you may find yourself with a chocolate headache — we've all been there.


Egg whites that have been whipped into air account for the soft texture of a soufflé, and must be folded in carefully to the chocolate batter so as not to deflate them.
Keep reading for much more, plus the recipe.


The moment of truth comes as you pour your delicate batter into the buttered and sugared ramekins, and place it in the oven, which is (hopefully) evenly preheated. The best part of this recipe, however, is that if you mess up at some point, it's fairly simple to bring it all together again. You'll want to quickly prepare your chocolate sauce so that it's ready to be poured over the soufflés.


As they come out of the oven, work quickly to place each hot ramekin on a plate, give it a quick dusting of powdered sugar, break it open slightly with a spoon, and pour in some of the chocolate sauce for an even more decadent experience. Since these fragile soufflés need to be eaten right away before they become too sad and deflated, this would be a great recipe to make with someone else, perhaps as a part of a special evening together.

Are you up for the challenge?
Ingredients
2 teaspoons unsalted butter, softened
1/2 cup sugar
8 ounces semisweet chocolate, finely chopped
4 large egg whites
3 large egg yolks
1/4 cup, plus 1 1/2 teaspoons orange-flavored liqueur (recommended: Grand Marnier)
1/4 cup heavy cream
3/4 ounce semisweet chocolate, finely chopped
Confectioners' sugar
Directions
Preheat the oven to 400° F.
Using the butter, grease 4 individual ramekins and sprinkle them with about 1 teaspoon sugar per ramekin.
In a large metal bowl, set over a pot of simmering water (not touching the bottom of the metal bowl), melt 8 ounces chocolate, stirring it with a whisk from time to time. Remove the bowl of melted chocolate from the heat.
In another bowl, beat the egg whites with 1/4 cup of the sugar until stiff and glossy.
Whisk the egg yolks into the chocolate one at a time, add 1/4 cup orange-flavored liqueur, and whisk in the remaining 2 tablespoons sugar. Fold in the egg whites and whisk until thoroughly blended.
Pour the chocolate mixture into the prepared ramekins, place on a baking sheet, and bake until they are puffed and somewhat firm, for about 20 to 25 minutes. Remove the ramekins from the oven.
While the soufflés are baking, prepare the chocolate sauce, and cover to keep warm.
For the chocolate sauce, heat the cream in a small saucepan over high heat. Add the remaining 1 1/2 teaspoons orange-flavored liqueur. Start whisking in the 3/4 ounce chopped chocolate and bring to a boil, whisking constantly. Remove the chocolate sauce from the heat. Serve immediately.
Place a ramekin on each of 4 plates and sift confectioners' sugar over the top of each soufflé. Break the tops of the soufflés and spoon in the warm chocolate sauce, allowing it to drip over the sides.
Serves 4.
Information
Category

Desserts, Chocolate