Chorizo Mussel Recipe
Fast & Easy Dinner: Chorizo, Mussels, and Tomatoes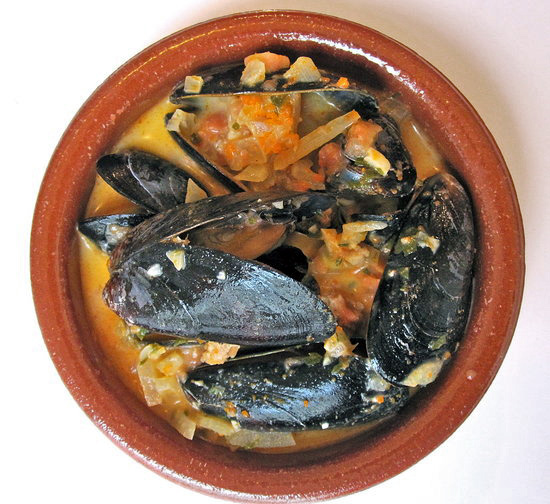 It's easy to forget that shellfish, like clams and mussels, are an affordable and quick-cooking option for weeknight meals. That's why if you're a fan of shellfish, you should make an effort to add these delectable bivalves to your repertoire! Start with this finger-licking good mussel recipe. The mussels are cooked in a flavorful broth that consists of chorizo, fresh tomatoes, white wine, and garlic. The ingredient list calls for a small amount of cream, but if you want to omit it, the dish won't lose anything. For a complete meal, serve with crusty French bread (for dipping in the delicious sauce!) and a side of mixed greens. Pair the mussels with the wine you used to make the broth. Mussel lovers: add this recipe to your collection now.
Ingredients
8 ounces chorizo, removed from casings and chopped
2 tablespoons unsalted butter
1 cup finely chopped yellow onions
1 cup roughly chopped fennel
1/2 teaspoon salt
1/2 teaspoon freshly ground black pepper
1 tablespoon minced garlic
1 cup fresh tomatoes, peeled, seeded and chopped
1 cup white wine
1/4 cup heavy cream
2 tablespoons finely chopped parsley leaves
3 pounds fresh mussels, well scrubbed and debearded
French bread, as an accompaniment
Directions
In a large saute pan, cook the chorizo until brown over medium-high heat, about 4 minutes. Remove with a slotted spoon and drain on paper towels. Drain off all but 1 tablespoon of fat from the pan.
Add the butter and when melted, add the onions, fennel, salt, and pepper, and cook, stirring, for 4 minutes.
Add the garlic and tomatoes, and cook, stirring, for 1 minute.
Add the wine, cream, and parsley, and bring to a boil. Add the mussels, cover, and cook until the shells have opened, about 4 minutes.
Remove from the heat and stir in the sausage. Discard any shells that do not open. Transfer to a deep bowl and serve immediately with hot French bread for dipping.
Serves 4 as an appetizer.
Information
Category

Main Dishes, Shellfish

Cuisine

North American