Cinco de Mayo Dessert: Jalapeño Brownies A couple of weeks ago, Conde Nast Traveler hosted its 8th Annual Hot List party in New York City. One of the desserts on the menu, which was catered by Mary Guilani, were these jalapeño brownies. I thought they would make an exceptionally original dessert for Cinco de Mayo, so I whipped up a batch and brought them to work. The recipe is simple — it's basically a classic brownie recipe with minced jalapeños folded in — and interestingly complex. The result is a spicy meets sweet flavor explosion. Although the office had mixed feelings about these brownies, I thought they were innovative and exciting. To take a look at the recipe,
.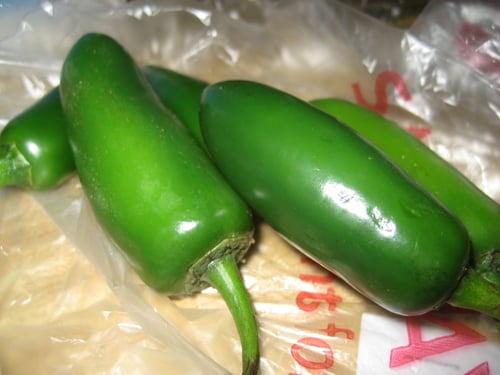 Ingredients
1/2 cup butter
2/3 cup semisweet chocolate chips
4 large eggs
1/2 teaspoon salt
2 cups sugar
1 teaspoon vanilla extract
1/4 cups all-purpose flour
1/4 cup unsweetened cocoa powder
5 large jalapeño peppers, minced
6 to 8 Thai chiles, minced*
3/4 cup walnuts, toasted, chopped**
Directions
Preheat oven to 350 degrees. Lightly oil a 9-by-13-inch baking dish.
Melt butter and chocolate chips together. Set aside to cool.
In a large bowl, whisk or beat eggs with salt until foamy.

Add sugar and vanilla and beat until well-blended. Add chocolate-butter mixture and stir until just combined. Add flour and cocoa and mix until almost blended.
Fold in jalapeños, Thai chiles and nuts.

Transfer batter to prepared pan and bake until top forms a cracked crust and inside looks slightly moist, 30 to 35 minutes.
Allow to cool, then cut into squares.
Makes 12 large squares.
*I was unable to find Thai chiles at my local super markets. Instead I substituted one habanero chili for all of the Thai chiles.
**Since I dislike walnuts in brownies, I omitted them from the recipe.
Information
Category

Desserts, Brownies

Cuisine

Mexican