Cinco de Mayo Party Tips From Marcela Valladolid
Marcela Valladolid's Party Guide This Cinco de Mayo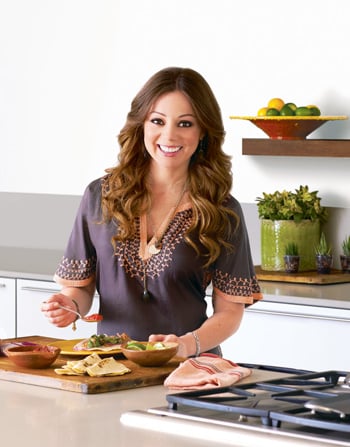 With our favorite Mexican-themed holiday on the horizon, it's impossible to spend our time thinking about anything other than what we'll be serving come Saturday. Will there be tacos, tortas, or both? Which south-of-the-border beer should we buy?
For more Cinco de Mayo advice, we enlisted the help of Marcela Valladolid, host of Food Network's Mexican Made Easy. Chef Marcela, who also stays busy as a cookbook author and a spokesperson for Kahlúa, took the time to offer her tips for party planning, her thoughts on up-and-coming Mexican dishes, and the one stereotype about her cuisine that she'd love to dispel.
To see it all, keep reading.
YumSugar: In case you missed it, Cinco de Mayo's coming up. What are some seasonal appetizers and drinks to pull together?
Marcela Valladolid: For an easy appetizer, try a festive guacamole with a little lime, salt, and pepper. It's a total crowd-pleaser. And I love pairing my dishes with a Mexican-inspired cocktail that surprises my guests, so I mix up Kahlúa with club soda and a lime. It's extremely refreshing, and the sultry notes from the arabica coffee will add a bit of flair to your party.
YS: This holiday, my personal goal is to learn about a dish native to Mexico that America hasn't been exposed to yet. What are some contenders?
MV: Many people don't know this, but caesar salad was actually developed in Tijuana, Mexico, where my family comes from! Chilaquiles are slowly but surely starting to make their way onto the food scene in the US. The brunch dish was invented to use up leftovers, and it's a mixture of lightly-fried corn tortillas with salsa and chicken, eggs, or beans, depending on what you're in the mood for.
YS: Name five ingredients you'd suggest for a cook looking to start a Mexican pantry.
MV: Cilantro, lime, garlic, chili powder, and jalapeño peppers.
YS: What's one stereotype about Mexican cooking that you'd love to dispel?
MV: People think Mexican food is heavy and all about the yellow cheese. They associate it with fast food items, but it's definitely not. It's actually so beautiful, so fresh, so colorful, and full of bright flavors.
YS: What's keeping you busy? I hear your latest season of Mexican Made Easy is on a new set. Why did you decide to mix things up?
MV: Mexican Made Easy is my main focus. Tune in to catch me cooking up my favorite new and exciting Mexican dishes! And it's my philosophy that it's always good to mix things up — it keeps you fresh and inspired.