Classic Clams Oreganata Recipe
Killer App: Clams Oreganata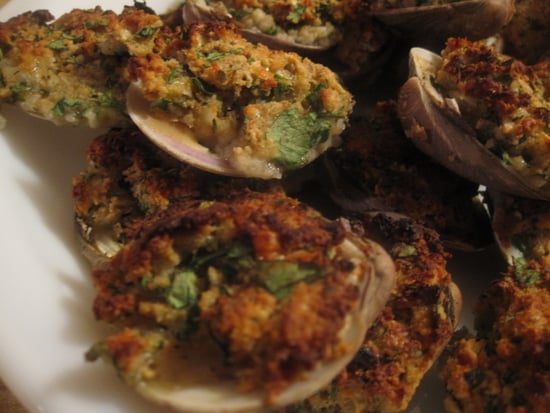 Clams are quickly becoming a staple in my appetizer arsenal. They're my go-to shellfish when I'm sick of shrimp. I've made clams casino, grilled clams, and over the long weekend, I tried clams oreganata.
A classic Italian antipasti, the oreganata topping consists of breadcrumbs, garlic, and lots of fresh oregano. It's a savory and scrumptious way to enjoy clams on the half shell.
The most difficult thing about this appetizer is getting the clams open. I followed the recipe exactly and it took some effort to shuck the clams. The work was worth it, though, because these clams were crowd-pleasing and delicious. Learn how it's done after the break.
Ingredients
1 dozen littleneck clams, scrubbed
1 cup plain bread crumbs
2 cloves garlic, smashed and chopped
3 tablespoons finely chopped fresh oregano leaves
2 tablespoons finely chopped Italian parsley leaves
Pinch crushed red pepper flakes
Kosher salt
2 to 3 tablespoons extra-virgin olive oil
1/2 to 3/4 cup chicken stock
Directions
Preheat the oven to 450 degrees F.
Place the clams on a sheet tray and put them in the preheated oven for 2 to 3 minutes or until the clams just begin to open. We don't want to cook the clams, we just want them to open a little.
Using a butter knife pry the clams open and remove the top shell and discard. Completely pull the clam away from the bottom shell and place it back in the bottom shell. This will allow for easy eating.
Preheat the broiler and adjust the rack to the top shelf.
In a bowl, combine the bread crumbs, garlic, parsley, oregano, crushed red pepper and some salt. Add the olive oil and stir until well combined. Add chicken stock until the mixture is quite wet. Taste to check the seasoning, add more salt if needed.
Pack each clam full of the bread crumb mixture. Pack the bread crumbs down and really secure the edges. This will help the clam stay moist.
Place the clams on a sheet tray and add about 1/2 cup of water to the tray. This will also help the clams stay moist. Put the tray under the broiler for 5 to 6 minutes or until the bread crumbs are nice and brown and crispy.
Makes 1 dozen clams.
Information
Category

Seafood, Appetizers

Cuisine

Italian