Classic Spanish Sangria Recipe
Happy Hour: Sangria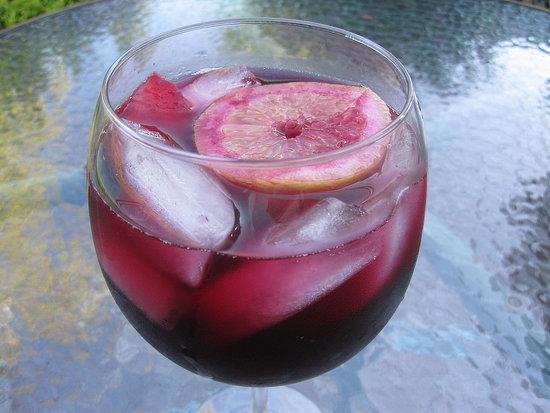 When the weather is warm and the days are long, there is no drink I crave more than sangria. The combination of wine, booze, and fruit is refreshing, comforting, and delicious. While I enjoy making pitchers of new and different sangria variations, sometimes it's nice to go back to basics. After all, there is a reason the classic red wine sangria is so popular: it really is wonderful! My recipe is from a small tapas bar in Cordoba of which I no longer remember the name. I've been enjoying this sangria for eight years and simply think there is no better traditional sangria recipe. A combination of red wine, Pellegrino Limonata, rum, Cointreau, and apple schnapps, to me, it's the ultimate Spanish sangria. Here's how I make it.
Sangria
From David, a Spanish barman at a random bar in the Juderia in Cordoba, Spain
Ingredients
2 bottles +2 cups of inexpensive red wine
2 1/2 cups Dark Rum
1 cup Cointreau (or Triple Sec)
1/2 cup Apple Schnapps (I have substituted peach and that's good too)
4 tsp sugar (optional)
Ice
Chopped fruit, such as apples, oranges, lemons (use what's in season)
Cinnamon sticks
5 cans Pellegrino Limonata*
Directions
Fill a large pitcher or punch bowl with the wine, liquors, fruit, sugar, and cinnamon sticks. Stir vigorously with a wooden spoon.
Test taste. If not sweet enough add another tablespoon or so of sugar. If it is too sweet add more wine.
Let the mixture rest in the fridge for at least an hour and up to one night.
Just before serving, add the Pellegrino Limonata. Serve in ice-filled goblets.
Serves 20.
*If you can't find Pellegrino Limonata you could make it with Fresca, Squirt, or sparkling water. In Spain, they use Fanta Limon and in my opinion the best substitute is the Pellegrino Limonata.
Information
Category

Drinks, Punch

Cuisine

Spanish/Portuguese