Classic Spring Rolls Recipe
Spring Rolls
As it turns out, we're not the only ones who like to make our own Spring rolls. So does member orangek8, who posted this authentic recipe in our Kitchen Goddess group in the YumSugar Community.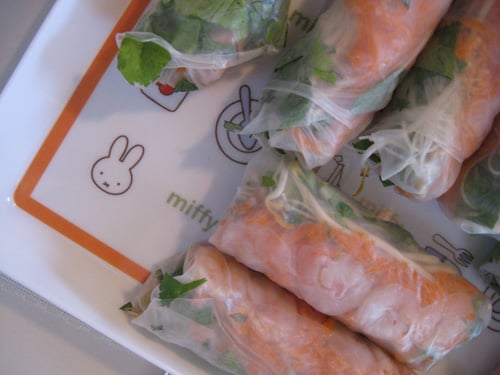 This weekend, the theme for our Cooking Club was Tour of Asia. I was in charge of Vietnam, so I made Vietnamese Spring Rolls. It was my first time, but I've always wanted to try my hand at it! I adapted a recipe that I found on allrecipes.com.
To get the traditional Vietnamese recipe, read more.
Here are all my ingredients ready to go:
Here is the finished product! They turned out great! They were pretty easy to make. Luckily, my boyfriend is a burrito expert, so I've had a lot of experience rolling things.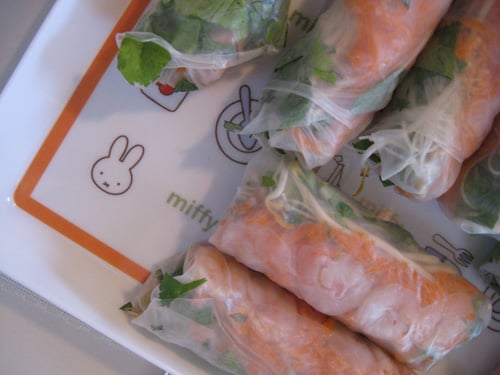 I brought along two dipping sauces: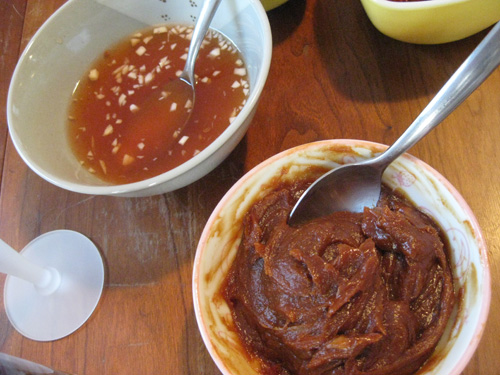 YUM!!!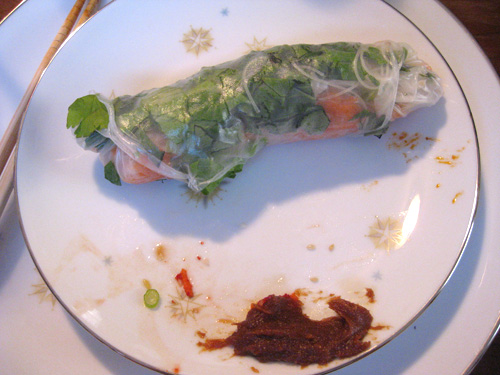 I used this recipe as a guideline. You can add whatever you want! I added bean sprouts and shredded carrots to mine. I think the carrots are a MUST, because they add a great pop of color!
Spring Rolls
http://allrecipes.com/Recipe/Vietnamese-Fresh-Spring-Rolls/Detail.aspx
Ingredients
2 ounces rice vermicelli
8 rice wrappers (8.5 inch diameter)
8 large cooked shrimp - peeled, deveined and cut in half
1 1/3 tablespoons chopped fresh Thai basil
3 tablespoons chopped fresh mint leaves
3 tablespoons chopped fresh cilantro
2 leaves lettuce, chopped
4 teaspoons fish sauce
1/4 cup water
2 tablespoons fresh lime juice
1 clove garlic, minced
2 tablespoons white sugar
1/2 teaspoon garlic chili sauce
Directions
Bring a medium saucepan of water to boil. Boil rice vermicelli 3 to 5 minutes, or until al dente, and drain.

Fill a large bowl with warm water. Dip one wrapper into the hot water for 1 second to soften. Lay wrapper flat. In a row across the center, place 2 shrimp halves, a handful of vermicelli, basil, mint, cilantro and lettuce, leaving about 2 inches uncovered on each side. Fold uncovered sides inward, then tightly roll the wrapper, beginning at the end with the lettuce. Repeat with remaining ingredients.

In a small bowl, mix the fish sauce, water, lime juice, garlic, sugar and chili sauce.

In another small bowl, mix the hoisin sauce and peanuts.

Serve rolled spring rolls with the fish sauce and hoisin sauce mixtures.
NOTES:
-For the rice vermicelli, I followed the package directions and soaked the noodles for 10 minutes in very hot water.
-For the hoisin sauce, I just mixed creamy peanut butter with hoisin sauce.
Information
Category

Appetizers

Cuisine

Other Asian
Have you come across any — or come up with your own! — divine recipes lately? If so, be sure to post them to Kitchen Goddess. It's easy to upload your photos and a description of the experience, and it could be featured on YumSugar! If you're new to the YumSugar Community, here's a detailed guide to posting to groups.