Clinton Kelly's Hosting Tips
The Chew's Clinton Kelly Talks TV and Hosting For the Holidays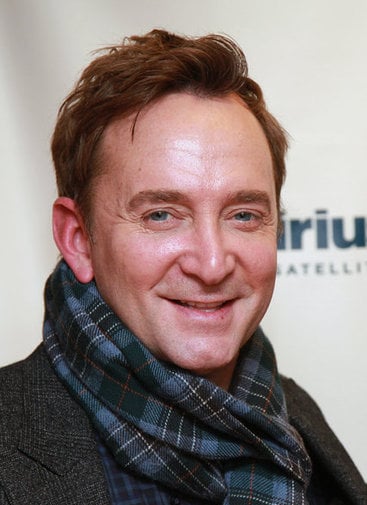 He stays busy as a media personality, author, fashion consultant, and designer, but even Clinton Kelly — of ABC's The Chew and TLC's What Not to Wear — believes in the importance of slowing down for the holidays. Despite it being the busiest time of the year, the television star took a moment to chat with us about his holiday menu, what still makes him nervous, and how to deal in that awkward moment when the first person arrives alone to your holiday party.
YumSugar: What are you making for the holidays?
Clinton Kelly: I'm spending Christmas Eve with my entire family at my sister's house on Long Island.
Then I'm going to come back and spend Christmas morning with my husband, Damon, in New York City, and then we're going to go to Connecticut to see some more family. My sister's asked me to bring a salad, and I'm bringing something I just whipped up the other night with endive, candied walnuts, blue cheese, and balsamic vinaigrette. She's serving seafood fra diavolo over angel hair, so that'll be a fun Christmas dinner. I'm embarrassed to say I have not decided yet what to cook for Christmas lunch; I figure I'll go to the butcher and see what looks beautiful and try to be inspired. I'm thinking about maybe beef tenderloin with horseradish crème fraiche and roasted potatoes.
YS: Holiday leftovers are always a big thing. What do you suggest doing with them?
Find out Clinton's answer when you read more.
CK: My favorite things are sandwiches, frittatas, and soups. You have to have great bread so you can have a nice toasted sandwich with turkey and cranberry sauce. If you're making a turkey for Christmas, the best turkey soup I've found is this: you take your turkey carcass, and you boil that. You pick all the meat and bones out, and then you strain the broth. Sauté the basic vegetables in a pan: a couple of carrots, celery, onions, and garlic. Then I add the vegetables to the strained broth and add noodles. It's almost like a consommé plus sautéed vegetables; it's the best.
YS: If you had one piece of advice for someone entertaining at home this holiday, what would it be?
CK: Manage your own expectations of the holiday. We put so much pressure on ourselves to be the perfect host, to make sure everybody has a great time. It's important to prepare — you really need to sort of think your party through — but you have to say, "If I go off my timeline, everything's fine." Because the host always sets the tone for a party. If you're stressed out, your guests always feel it, and they're like, "I can't wait to get out of here," because it doesn't look like the host or the hostess is having fun. So you have to do what you have to do to get yourself in a really great mood. Maybe that's a glass of wine, a nip of a Xanax. Maybe it's meditation. Go for a run; do what you have to do just to make sure you are in the best possible mood.
YS: How do you personally accomplish that?
CK: I try to get everything done at least an hour before I expect people to arrive. That last hour, it's just me putting on some music that I like, going over the finishing touches of the party, and having a glass of wine, either by myself or with Damon, and just enjoying the moment before people get there, and not getting into that whole routine of being frazzled before they get there: "My God, did I put the olives out? Is there a little container for the pits?" And when they get there, they get there. You know when you have a party, and the first person there, it's always awkward? I always save a little task for them. I'll be like, "Can you do me a favor? Can you cut up some lime wedges for me for the gin and tonics?" I always find that the first person there likes to do that. They're just happy to be doing something rather than standing around awkwardly.
YS: It's so reassuring to know I'm not the only person who's had that awkward experience.
CK: I just want everybody to be happy and feel at home. I tell people, "If you want anything, go into my refrigerator and grab it."
YS: And what are you doing for New Year's?
CK: I am not a big New Year's person, actually. I don't think I've been awake for New Year's when the ball drops in about seven years. I'm going to be 44 next year, and in my old age, I've turned into a morning person. I'm up every morning at 5:30, so staying up until midnight is pure torture. I wish you knew me when I was 35, as it was a very different experience. Where I am in my life right now, it's about spending time with the people I love most. People come up to me all day every day, and they're like, "What do you think of my outfit?" and "Can I take a picture with you?" So on New Year's Eve I kind of don't want to deal with that. I want to have a couple of glasses of Champagne and be with my family rather than taking pictures with people I don't know.
YS: It's been nearly a year and a half since The Chew's been on the air. It got a lot of backlash from soap lovers. How do you think everyone's responding now?
CK: The fact that we were renewed is a testament to how people have embraced us. I took a lot of flak on my Twitter and Facebook pages from people who were angry that their soap was canceled. Of course my cohosts and I had absolutely nothing to do with that. At the beginning of The Chew, we were struggling to find ourselves. There had never been a show like ours on TV. The only people who knew each other were Michael Symon and Mario Batali. So there were five people trying to have chemistry and do a new TV show, and it was kind of hard. Now I will tell you that I adore those guys. I am proud to call them friends, and I mean that in the truest sense of the word friends. Michael and his wife and Mario and his wife, and Carla and her husband, and Daphne came over to my apartment last Tuesday night, and we just had the best time. I think that because we're actually friends in life now, that it's translating onto the screen. People contact me every single day, by the dozens, saying how much they love The Chew, how much it really shows that we're friends, and it's part of their own family.
YS: Do you have an episode where you had the most fun of your life?
CK: I do a thing called Dear Fabby, and I did this one where somebody asked me the question, "What do I do? I go to my family's house for the holidays, and they eat off of paper plates, and they use plastic utensils." So I gave them advice and said, "Maybe you can gift them a nice flatware set, or some plates. Or you can just bring your own blender and everybody can just drink their food." I actually blended up a plate of Christmas roast beef, potatoes, and vegetables, and then drank it. People were flipping out.
YS: Who's been your favorite guest on The Chew so far?
CK: Today Olivia Newton-John's on the show, and she's my all-time favorite guest, because I'm obsessed with Olivia Newton-John. This is her second time on the show, and on today's show we did something called Christmas karaoke. I challenged Olivia Newton-John to a contest: who could finish the lyrics in certain karaoke songs, and it was a blast. JoBeth Williams was awesome; she's the mom from Poltergeist. When I was 13, I watched the movie Poltergeist literally 100 times, and I memorized the whole thing. So JoBeth Williams came on; she plays the mom and I kind of flipped out over her as well. There've only been a couple of guests I haven't really liked, and I will not mention their names.
YS: As a celebrity chef, is there anything in the spotlight that still gives you the jitters?
CK: I get a little bit nervous about chopping sometimes. Last year, before The Chew even started, I was on Good Morning America. They gave us a challenge to make a sandwich or something like that. Before they said "action," I hit my finger into a knife, so now we're on live television, and I'm in the middle of Times Square, and my finger is bleeding, and Carla and I are in this competition. I could not believe it was happening. I wanted to vomit. So now when there are knives on the show I get a little bit nervous. I'm not one of those chefs who can close their eyes and chop an onion.
YS: Everyone's over 2012 and thinking ahead to 2013. What do you think will be in next year, and what will be out?
CK: What I would like to think is that there will be a return to those more glamorous meals — like Downton Abbey, for example. They're always in the kitchen, and there's a bit of glamour to the food, even though it's sort of basic food. That's what I think will start happening. I don't have a crystal ball, and I'm not really the food trend guy necessarily, but I really do like the idea of going back to the basic things that we've cooked. I really hope that there'll be a movement away from heavily processed food, and us returning to eating natural food and eating a little bit more seasonally. I hope that's what's going to happen.
YS: What's next for you?
CK: So if 2013's anything like 2012, I expect to be just as exhausted as I was this year. I'm doing both The Chew and What Not to Wear, so it's killing me. I'm also a Macy's spokesman so we've got some stuff happening for Macy's. Other than work, work, work, I'm not sure what else is going to be on the agenda. I'm just going to work my butt off four days a week and then spend the other three days of the week cooking and eating and just hanging out with my friends and family.
For a less-processed version of an American favorite, try Clinton's recipe for homemade green bean casserole with blanched green beans in béchamel, Sargento cheese, caramelized onions, and a puff pastry topping.