Cobb Salad Recipe
A Crave-Worthy Cobb For the Salad Averse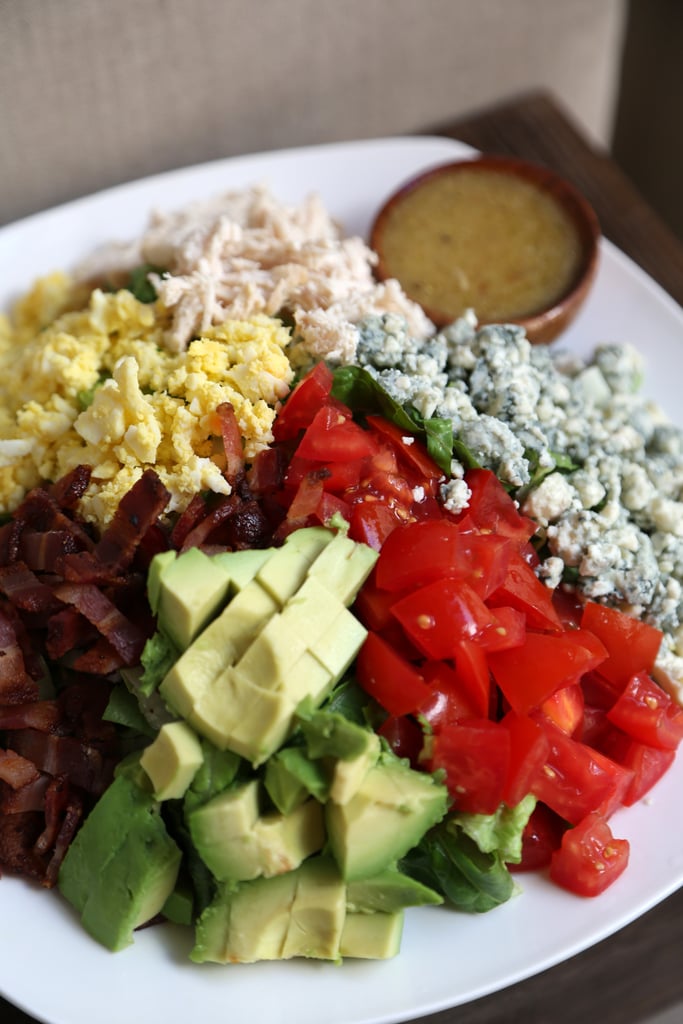 Confession: I didn't eat salads until I was way into my teens. The reason? I never found them filling and was typically bored after a few bites. It wasn't until I tried a Cobb salad, filled with all sorts of hearty ingredients, that I changed my mind about leafy green meals.
The rainbow spread of toppings in a classic Cobb include bacon, tomato, egg, blue cheese, avocado, and shredded chicken, positioned neatly over a bed of romaine lettuce. While any dressing, from creamy blue cheese to balsamic vinaigrette, will complement the salad, my favorite way to eat it is with a tart red-wine vinaigrette, which helps cut through the rich flavors.
See the recipe to change your mind about salads.
Cobb Salad With Red-Wine Vinaigrette
From POPSUGAR Food
Ingredients
For dressing:
2 tablespoons extra-virgin olive oil
2 tablespoons canola oil
1/4 cup red-wine vinegar
1 tablespoon Dijon mustard
1 small garlic clove, minced
Salt and pepper, to taste
For salad:
4 cups romaine lettuce leaves, chopped
4 slices of bacon, cooled and crumbled
1/2 cup cooked chicken, shredded
1/2 cup tomato, medium diced
1/3 cup blue cheese crumbles
2 hard-boiled eggs, roughly chopped
1/2 ripe avocado, thinly sliced
Directions
To make dressing: In a liquid measuring cup, combine olive oil and canola oil. In a separate small bowl, whisk red-wine vinegar and Dijon mustard together. Continue whisking, and drizzle in oil until the oil and vinegar emulsify. Stir in minced garlic clove and salt and pepper to taste.
To make salad: Place chopped romaine in the bottom of a large salad bowl. Arrange bacon, chicken, tomato, blue cheese crumbles, hard-boiled eggs, and avocado in neat, pie-slice sections on top of romaine. Serve with dressing on the side. Alternatively, toss romaine and toppings together in a large mixing bowl and add dressing, one tablespoon at a time, until leaves are fully coated.
Serves 2 as a main course.
Information
Category

Meats, Salads

Cuisine

North American