Cocktail Historian Martin Cate Explores the Fern Bar of the 1970s
Is the Fern Bar Poised For a Comeback?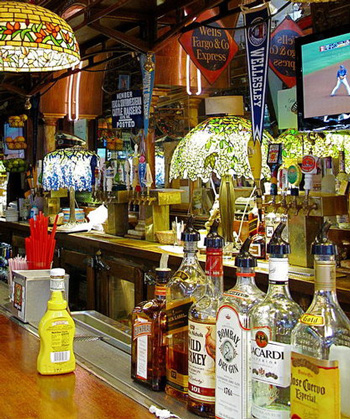 Researching cocktail eras is a pastime, and lately, one particular time period has been the highlight of conversation among spirits writers: the fern bar era. The much-maligned tavern of the 1970s — characterized by its ferns, wood paneling, and overly cloying drinks — was discussed at length in seminars at this year's Tales of the Cocktail and SF Cocktail Week.
To learn more about this era, I spoke to Martin Cate of Smuggler's Cove, the historian who led both discussions. I asked him if the fern bar was due for a revival. His answer, after the jump.
"The exact date [of the fern bar's inception] is the opening of Henry Africa's in San Francisco in 1970," Cate told me.
"Norman Hobday, the guy who opened Henry Africa's, said, 'I want to open a saloon, but we're going to make it feel like your grandmother's living room.' It's welcoming: overstuffed furniture, ferns, palms, Tiffany lamps." Drinks such as Harvey Wallbangers, lemon drops, and mudslides offered familiar flavors like vanilla in a slushy, sweet format.
This period of cocktail history has largely been overlooked until now. Why all the recent attention? "We've been using the Manhattan, martini, and Tom Collins as a template. We're starting to exhaust that for inspiration," Cate explained. Still, he doesn't think mudslides are poised for comeback.
"The American palate is more sophisticated; if anybody were to open a revived fern bar, it would have a couple months of novelty and fade away. But it's something worth looking into. It has value and respect."
That hasn't stopped the era's mainstay drink, the Harvey Wallbanger, which has sprung up in variations both classic and contemporary throughout San Francisco. And let's not forget the biggest impact it's had. "Four simple words," Martin said: "T.G.I. Friday's."