Cocktail Party Tips
5 Secrets For a Perfect At-Home Cocktail Party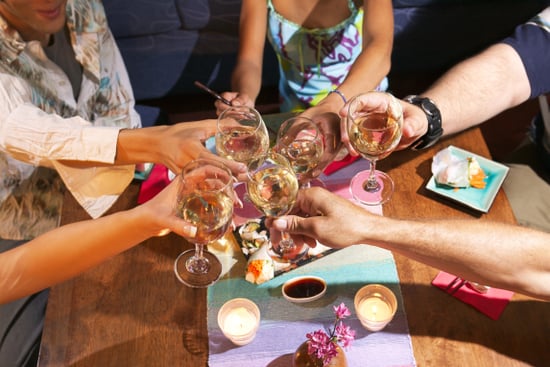 Hosting a cocktail party out of your home is intimate and charming but can sometimes be a source of great stress. The truth is that a little bit of planning and preparation can go a long way. Who wants to spend the party worrying about things like running to get more ice or salvaging burnt hors d'oeuvres? We've got five tips to help you host a smooth soiree.
Make sure to have enough ice.
The last thing you'll want to do is run to the store for more ice while your guests' drinks run dry. Make sure to get enough ice ahead of time for the number of guests you're inviting. Also fill your ice trays earlier in the day for backup.
Stock a variety of mixers and garnishes.
You may be set on serving a signature cocktail for the evening, but just in case it's not everybody's style, keep a variety of drink mixers on hand. We recommend tonic water, cranberry and orange juice, a variety of sodas, and margarita mix. Set out basic garnishes like lemon peels, lime wedges, and maraschino cherries, but don't be afraid to get creative as well: fresh herbs and berries would be fun and pretty. You may want to have a few bottles of wine and a six-pack of beer in the refrigerator just in case your guests don't drink hard liquor.
Don't forget about music.
Sometimes it can take a while for lively conversation to develop, and nothing is more awkward than a silent room. This is where background music comes in very handy. Spend a little bit of time developing a playlist for the evening that matches the mood you're trying to set. Choose calmer songs for the beginning of the evening, and as people start to warm, the music can, too!
For more tips, keep reading.
Serve simple food.
Serve hors d'oeuvres that only require minimal effort (or can be made well in advance). We recommend serving a variety of cold dishes, like edamame hummus or melon, mozzarella, and serrano ham skewers, along with a few hot options, such as pancetta-wrapped asparagus or a fast and easy buffalo chicken pizza. If you cook things, set timers so you don't get distracted and forget about them.
Enjoy yourself!
Remember that you're hosting a party to create memories and have a little bit of fun with friends. You don't want to look back on the evening and remember feeling stressed out and anxious. Kick back, have a cocktail before your guests get there to calm you down (but just one!), and remind yourself that the more fun you have, the more fun everyone else will have.
What are your cocktail party success secrets?