Colcannon
Colcannon: A Loaded Mashed Potato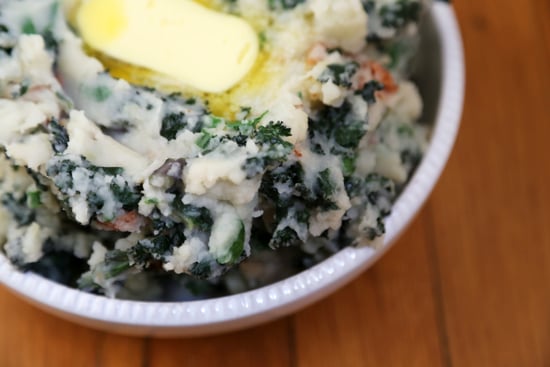 St. Patrick's Day is 'round the corner, therefore we're giving Irish cuisine a gander. While I can only claim to be Irish-ish, I do know a thing or two about marrying potatoes and butter.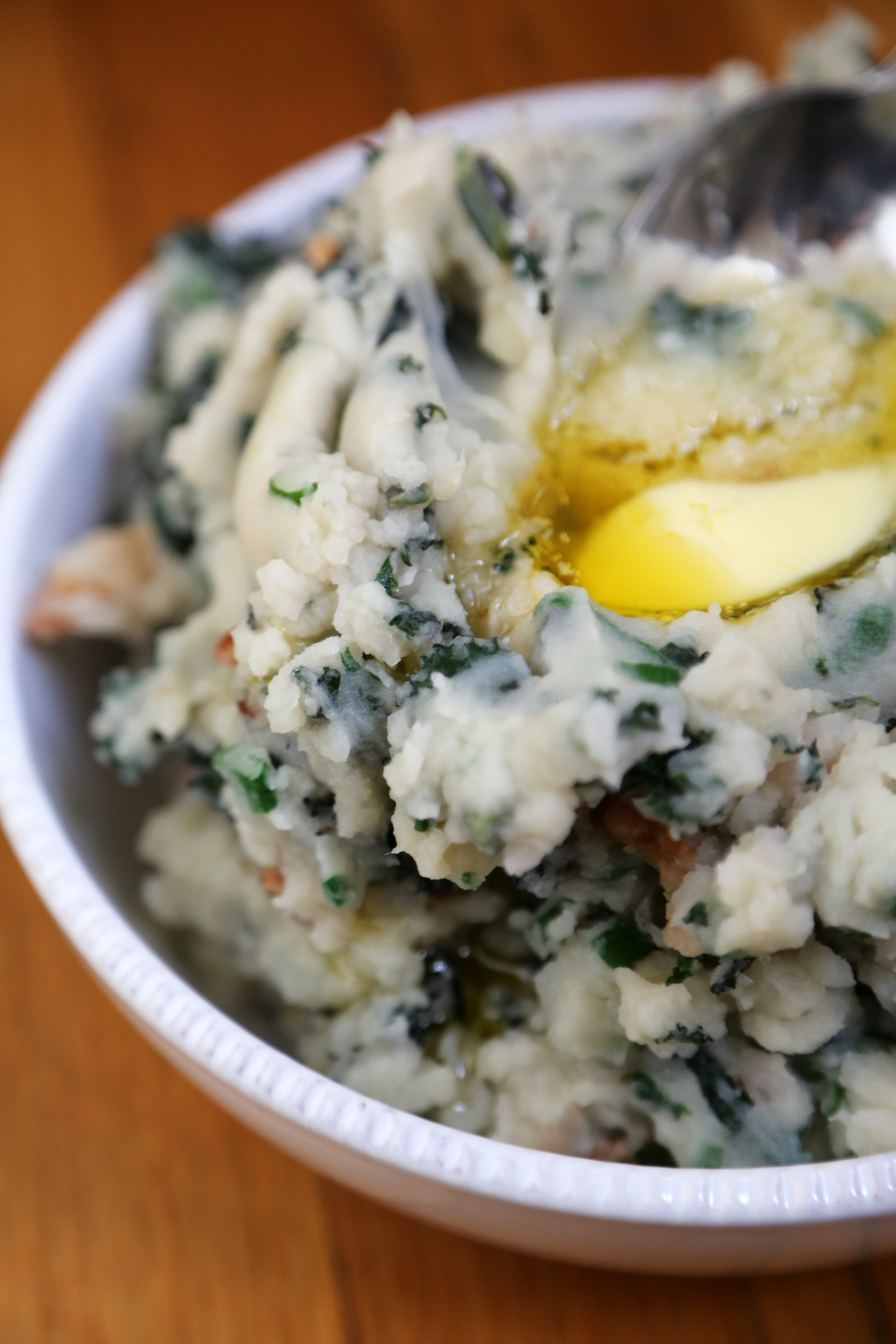 Colcannon is a traditional Irish dish that is basically mashed potatoes mixed with kale or cabbage, green onion, and Irish bacon, which is similar to Canadian bacon. Colcannon is a revered dish in Ireland; there are even songs written about it! While I'm not likely to write a song about my colcannon rendition, I will sing its praises. In addition to kale and green onions, this dish contains pancetta, because I like thin, crispy, bacon-like bits in my mashed potatoes. Who knew kale could taste so good, enveloped in fluffy mashed potatoes and salty pieces of pancetta?
Keep reading for the recipe.
Ingredients
3 russet potatoes
4 ounces pancetta, cut into 1-inch, bite-size pieces
1/2 bunch kale, leaves and stems separated and chopped
1/2 bunch green onions, thinly sliced
3 tablespoons butter, divided
3/4 cup whole milk, plus more if needed
Directions
Fill a medium-size saucepan with cold water (up to its handle) and place near a cutting board. Peel and dice potatoes, immediately tossing them in the saucepan to prevent discoloration. Transfer pot to stove and bring to a boil. Cook 15-20 minutes, or until potatoes become tender when pronged by a fork. Drain in a colander and set aside.
Rinse pot, return to stove, and set over medium-high heat. Cook pancetta, stirring often, until crispy and golden, about 2 minutes. Quickly remove pancetta from heat using a spatula or wooden spoon and drain on a plate with a paper towel.
Add diced kale stems to pot with pancetta fat. Cook for 2 minutes, then add chopped kale leaves, and cook for another 2 minutes, or until leaves look wilted and bright green. Add green onions, pancetta, and potatoes. Reduce heat to low.
Mash potatoes with a potato masher or a hand whisk. Add 2 tablespoons butter and continue mashing and mixing potatoes and kale. When butter is melted, add milk and stir until just combined. Add more milk if necessary. Salt to taste, then serve hot with a tablespoon of butter in center of potatoes.
Serves 4.
Information
Category

Side Dishes, Potato

Cuisine

English/Scottish/Irish