Come Party With Me: 30th Birthday — Menu DearSugar is celebrating her 30th birthday at one of her favorite restaurants, Le Colonial. After 10, the restaurant turns into a nightclub complete with a DJ and packed dance floor. Dear has rented out the upstairs and will provide her guests with a plethora of appetizers. Le Colonial specializes in scrumptious Vietnamese food. Some of the dishes on the menu include chicken meatballs in lettuce wraps, mango shrimp summer rolls, and mini Vietnamese steak sandwiches. To take a look at these recipes
.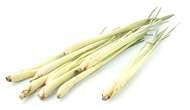 Vietnamese Chicken Meatballs in Lettuce Wraps
From Food and Wine magazine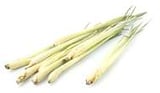 Ingredients
1 pound skinless, boneless chicken thighs, trimmed of visible fat and cut into 1 1/2-inch pieces
3 tablespoons Asian fish sauce
3 small shallots, finely chopped
3 garlic cloves, minced
1 stalk of fresh lemongrass, tender white inner bulb only, minced
3 tablespoons chopped cilantro, plus 1/3 cup leaves for serving
1 tablespoon finely chopped mint, plus 1/3 cup leaves for serving
1 1/2 teaspoons cornstarch
1/2 teaspoon kosher salt
1/2 teaspoon freshly ground pepper
1/2 cup granulated sugar
1 head Boston or red leaf lettuce, leaves separated
1 small seedless cucumber—peeled, halved lengthwise and thinly sliced crosswise
1 small red onion, halved and sliced
Asian chili sauce, for serving
Directions
Preheat the oven to 400°. Position a rack in the top third of the oven.
In a food processor, pulse the chicken until coarsely ground; transfer to a bowl. Add the fish sauce, shallots, garlic, lemongrass, chopped cilantro and mint, cornstarch, salt and pepper and mix with your hands.
Line a large, rimmed baking sheet with parchment paper.
Spread the sugar on a plate. Using slightly moistened hands, roll the chicken mixture into 1 1/2-inch balls.
Roll the meatballs in the sugar until they are evenly coated.
Transfer the meatballs to the prepared baking sheet and bake them for 15 minutes, until they are lightly browned and cooked through.
Meanwhile, arrange the lettuce, cilantro and mint leaves, cucumber and onion on a platter. Transfer the meatballs to the platter and serve with chili sauce.
Serves 4.
Information
Category

Meats, Appetizers

Cuisine

Other Asian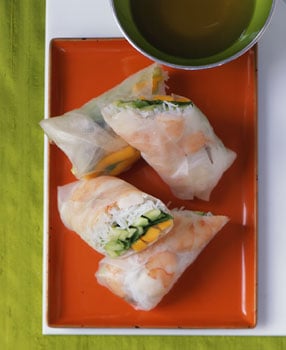 Mango Shrimp Summer Rolls
From Gourmet magazine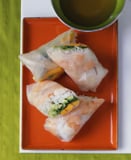 Ingredients
For dipping sauce
3 tablespoons Asian fish sauce such as Thai nam pla or Vietnamese nuoc mam*
3 tablespoons fresh lime juice
2 tablespoons water
2 1/2 teaspoons packed brown sugar
For rolls
12 large shrimp in shell (21 to 25 per lb), peeled
3 oz vermicelli rice-stick noodles*
3 tablespoons rice vinegar
2 tablespoons sugar
1/2 teaspoon salt
8 (8-inch) rice-paper rounds plus additional in case some tear*
48 fresh cilantro leaves (from about 1 bunch)
48 fresh mint leaves (from about 1 bunch)
1 seedless cucumber (usually plastic-wrapped; 1 lb), peeled, cored, and cut into 1/8-inch-thick matchsticks
3 scallions, cut into 3-inch-long julienne strips
1 lb firm-ripe mango, peeled, pitted, and cut into 1/8-inch-thick matchsticks
Directions
Make sauce: stir together all sauce ingredients in a small bowl until sugar is dissolved.
Make rolls: add shrimp to a 4- to 5-quart pot of boiling salted water, then reduce heat and poach shrimp at a bare simmer, uncovered, until just cooked through, about 3 minutes.
Transfer shrimp with a slotted spoon to a bowl of ice and cold water to stop cooking, then return shrimp cooking water to a boil.
Chill shrimp in ice water 2 minutes, then drain and pat dry. Cut each shrimp in half lengthwise, deveining if necessary.
Add noodles to boiling water and cook until just tender, about 3 minutes.
Drain in a colander, then rinse under cold running water and drain well.
Stir together vinegar, sugar, and salt in a large bowl until sugar is dissolved, then add noodles and toss to coat.
Put a double thickness of paper towel on a work surface and fill a shallow baking pan with warm water. Check rice-paper rounds and use only those that have no holes. Soak 1 round in warm water until pliable, 30 seconds to 1 minute, then carefully transfer to paper towels.
Arrange 3 shrimp halves (cut sides up) in a row across bottom third (part nearest you) of soaked rice paper. Spread 1/4 cup noodles on top of shrimp and arrange 3 cilantro leaves, 3 mint leaves, 8 cucumber matchsticks, 6 scallion strips, and 10 mango matchsticks horizontally on top of noodles.
Fold bottom of rice paper over filling and begin rolling up tightly, stopping at halfway point. Arrange 3 more mint leaves and 3 more cilantro leaves along crease, then fold in ends and continue rolling.
Transfer summer roll, seam side down, to a plate and cover with dampened paper towels. Make 7 more rolls in same manner and serve, whole or halved diagonally, with dipping sauce.
Makes 8 first-course servings.
Make ahead: summer rolls can be made 4 hours ahead and chilled, covered with dampened paper towels and then with plastic wrap. Bring to room temperature before serving.
*Available at Asian markets and ethnicgrocer.com (866-438-4642).
Information
Category

Appetizers, Finger Foods

Cuisine

Other Asian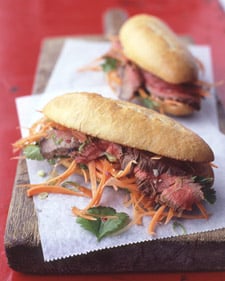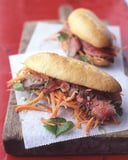 Ingredients
1 garlic clove, minced
1 teaspoon sugar
1/4 teaspoon red-pepper flakes
1 tablespoon rice vinegar
1 tablespoon water
2 carrots, grated
2 scallions, thinly sliced
1/2 cup packed fresh cilantro leaves
4 hero rolls
1 pound sliced Flank Steak with Lime Marinade, recipe below
Directions
In a small bowl, stir together garlic, sugar, red-pepper flakes, vinegar, and water.
In another bowl, toss together carrots, scallions, and cilantro leaves. Toss with half the vinegar mixture.
Split and lightly toast hero rolls; dividing evenly, layer with carrot mixture and sliced flank steak. Drizzle with remaining vinegar mixture, if desired.
Serves 4.
Flank Steak with Lime Marinade
1/3 cup (about 4 limes) freshly squeezed lime juice
2 tablespoons soy sauce
2 scallions (about 1/3 cup), thinly sliced
2 tablespoons minced, peeled fresh ginger
1/2 teaspoon red-pepper flakes
1 1/2 pounds flank steak
Vegetable oil, for grates
Coarse salt and ground black pepper
In a resealable plastic bag, combine lime juice, soy sauce, scallions, ginger, and red-pepper flakes. Add steak, and seal bag (place in a dish to catch any leaks); marinate in the refrigerator, turning occasionally, up to 1 hour.
Heat grill to high; lightly oil grates. Remove steak from marinade, letting excess drip off (discard marinade); season with salt and black pepper.
Place on grill; cover. Cook, turning once, until meat reaches desired doneness, 6 to 8 minutes for medium-rare. Let rest 10 minutes before slicing thinly.
Serves 4.
Information
Category

Appetizers, Finger Foods

Cuisine

Other Asian