Come Party With Me: Baby Shower — Menu When hosting a baby shower, be sure to consult the mother-to-be before selecting a menu. Her appetite may have changed, so ask her what she wants to enjoy at the party. My pal Denise has requested a delicious spread of savory brunch dishes. Thus the menu will consist of a crisp breakfast pizza made with hash browns and two types of cheese, home fries with peppers and onions, and crunchy slices of fried bacon. The pizza recipe calls for sausage, but I'll make a couple pork-less pies for the vegetarians in attendance.
Supplement the homemade items with easy, grocery store additions. Fresh fruit, plain yogurt, and an assortment of breads are delightful finishing touches. To experiment with these mouth-watering breakfast recipes,
.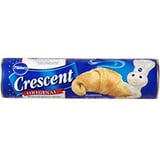 Ingredients
1 tube (4 ounces) refrigerated crescent rolls
1/4 pound bulk pork sausage or 4 pork sausage links, sliced
1/2 cup frozen shredded hash brown potatoes, thawed
2 tablespoons diced sweet red pepper
2 tablespoons diced green pepper
1/2 cup shredded cheddar cheese
2 eggs
2 tablespoons 2% milk
1/8 teaspoon pepper
1 tablespoon shredded Parmesan cheese
Directions
Separate crescent dough into four triangles; arrange on a ungreased 7-1/2-in. round pizza pan with points toward the center. Press onto the bottom of pan, building up edges slightly; seal perforations.
In a small skillet, cook sausage over medium heat until no longer pink; drain. Sprinkle over crust. Top with potatoes, peppers and cheddar cheese.
In a small bowl, whisk the eggs, milk and pepper.
Pour over pizza; sprinkle with Parmesan cheese.
Bake at 375° for 20-25 minutes or until eggs are completely set and top is golden brown. Cut into slices.
Serves 2.
Information
Category

Other, Breakfast/Brunch

Cuisine

Italian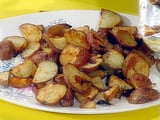 Ingredients
2 1/2 pounds red skinned potatoes
3 tablespoons extra-virgin olive oil
1 green bell pepper, seeded and chopped
1 medium onion, chopped
1 tablespoon grill seasoning (recommended: McCormick's Montreal Steak Seasoning)
2 teaspoons sweet paprika
Directions
Preheat oven to 500 degrees F.
Coarsely chop potatoes and transfer to a nonstick cookie sheet.
Toss with oil, peppers, onions and seasonings and place in the oven 25 minutes, turning twice with spatula.M/li>
Serve hot.
Serves 4.
Information
Category

Potatoes, Breakfast/Brunch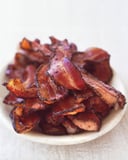 Directions
Heat a cast-iron or other heavy skillet over medium heat.
When hot, add bacon strips in a single layer. Cook until browned on bottom, 3 to 4 minutes.
Flip bacon, using tongs, and cook until browned on both sides, about 2 minutes.
Drain and reserve fat for another use, and repeat with remaining bacon. Drain bacon on paper towels. Serve immediately.
Makes 1 pound.
Information
Category

Meats, Breakfast/Brunch

Cuisine

North American