 When hosting a destination bachelorette party in a glamorous location like Vegas, set aside plenty of time to plan the party. Being organized with a schedule of events, set dinner reservations, and selected club locations will aid in making the event fabulously seamless. Let guests know what's up in advance, so they can pack appropriate clothing.
For my friend Elena's bachelorette party in Las Vegas, all of the meals will be eaten out. However, one of the nights before we go out, everyone will gather in my room for a lingerie shower. I've ordered a trio of appetizers — white bean hummus with kalamata relish, Bloody Mary cocktail meatballs, and spinach gruyere pinwheels — from the hotel, so everyone can sip Champagne and have a snack.
For more wedding coverage head over to IDoSugar. To take a look at these recipes,
.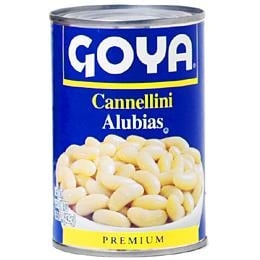 Ingredients
2 tablespoons extra-virgin olive oil, plus more for garnish
1 medium onion, chopped
3 cloves garlic, finely chopped
3 sprigs fresh thyme
One 4-inch sprig fresh rosemary
Two 15-ounce cans white beans, such as cannellini
2 teaspoons coarse salt, plus more as needed
Freshly ground black pepper
Pinch of cayenne pepper
2 tablespoons tahini (sesame paste)
2 teaspoons freshly squeezed lemon juice
4 pita breads, warmed and cut into triangles
Kalamata Relish, recipe below
Directions
Heat the oil in a large skillet over medium heat. Add the onion, garlic, thyme, and rosemary. Cook until onions are translucent, 5 to 6 minutes.
Add beans with their liquid, 1 cup of water, salt, pepper, and cayenne, and bring to a simmer. Cook until liquid is nearly evaporated, about 8 to 10 minutes.
Remove thyme and rosemary sprigs; discard.
Carefully transfer mixture to the bowl of a food processor, add the tahini and lemon, and puree until smooth. Adjust seasoning, if necessary. Transfer to a serving bowl, let cool.
Top with Kalamata relish and drizzle with olive oil before serving. Serve with pita triangles.
Makes about 3 1/2 cups.
1 plum tomato, seeded and very finely chopped
2 tablespoons pitted Kalamata olives, very finely chopped
2 tablespoons extra-virgin olive oil
1 tablespoon chopped fresh flat-leaf parsley
1/2 teaspoon finely grated lemon zest
2 teaspoons freshly squeezed lemon juice
Coarse salt and freshly ground black pepper
In a small bowl, stir together the tomato, olives, olive oil, parsley, lemon juice and zest until well combined. Season with salt and pepper.
Makes about 1/2 cup.
Information
Category

Dips, Appetizers

Cuisine

Mediterranean/Middle Eastern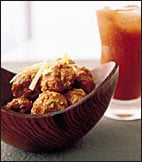 Ingredients
1/2 pound lean ground beef
1/2 pound ground pork
1 small tender celery rib with leaves, finely chopped
2 teaspoons prepared horseradish
1 large egg, lightly beaten
1 slice white sandwich bread—soaked in warm water, squeezed dry and crumbled into pieces
1/2 teaspoon hot sauce
1/2 teaspoon salt
1/4 teaspoon freshly ground pepper
1 tablespoon vegetable oil
1/2 cup Three-Pepper Bloody Mary, recipe below
Directions
In a bowl, combine the beef and pork with the celery, horseradish, egg, bread, hot sauce, salt and pepper and knead well. Roll the meat into 1-inch balls.
Heat the oil in a nonstick skillet until shimmering. Add the meatballs and cook over moderately high heat until browned all over, about 5 minutes.
Add the Three-Pepper Bloody Mary and simmer over moderate heat until the liquid is reduced by half and the meatballs are glazed, about 2 minutes. Serve hot.
Makes 32 meatballs.
1 cup vodka
1/4 cup finely chopped onion
1 small garlic clove, smashed
1 small jalapeño, seeded and coarsely chopped
1 tablespoon fresh lemon juice
1 teaspoon hot sauce, preferably habanero
2 1/2 cups tomato juice
4 teaspoons prepared horseradish
1 teaspoon celery salt
1/2 teaspoon freshly ground pepper
Lime wedges and celery ribs, for serving
In a blender, combine the vodka with the onion, garlic, jalapeño, lemon juice and hot sauce and puree until smooth.
Add the tomato juice, horseradish, celery salt and pepper and blend.
Strain into tall glasses over ice and serve with lime wedges and celery ribs.
Makes about 4 cups.
Information
Category

Meats, Appetizers

Cuisine

North American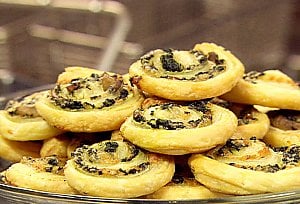 Ingredients
1 (10-ounce) package frozen chopped spinach, thawed
4 tablespoons butter, divided
1 cup sliced fresh mushrooms
4 ounces Gruyere cheese, grated
1 (17 1/2-ounce) package frozen puff pastry sheets, thawed
Directions
Preheat oven to 350 degrees F.
Drain spinach well, pressing between layers of paper towels to remove excess moisture.
Melt 2 tablespoons butter in a skillet over medium heat. Add mushrooms and cook, for 5 minutes.
Stir together spinach, mushrooms and cheese; set aside.
Roll 1 pastry sheet into a 13 by 11-inch rectangle.
Melt remaining 2 tablespoons butter. Brush 1/2 melted butter over pastry. Spread 1/2 spinach mixture over butter.
Roll-up, jellyroll fashion, starting with the long side. Repeat procedure with remaining pastry sheet, butter, and spinach mixture.
Wrap rolls in plastic wrap and refrigerate up to 2 days, if desired. Cut rolls into 1/4-inch thick slices.
Place on lightly greased baking sheets. Bake for 15 to 20 minutes, or until golden brown.
Serves 12-15.
Information
Category

Appetizers

Cuisine

North American