Come Party With Me: Bedazzle Bonanza — Menu When FabSugar and I came up with the idea to host a Bedazzling party, I knew the menu would have to include dishes that sparkle with flaky chunks of fleur de sel. Since the party is on a Sunday afternoon, the menu consists of three light, simple nibbles. While waiting their turn to use the Bedazzler, guests can enjoy salt-roasted shrimp with scampi dip. Crisp mushroom and blue cheese crackers glisten with tiny salt crystals. Fab requested a dish with roasted beets, with their rhinestone-like vibrant color, so I'll serve them on crostini with fresh burrata cheese. If these dishes sound enticing, wait till you look at the recipes! Do so and
.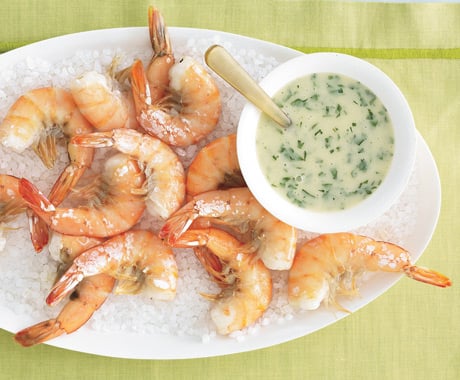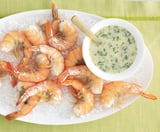 Ingredients
1 4-pound box rock salt
16 uncooked unpeeled large shrimp
1/3 cup dry white wine
2 tablespoons fresh lemon juice
2 garlic cloves, minced
1/2 cup (1 stick) butter, chilled, diced
1 tablespoon chopped fresh Italian parsley
Directions
Spread salt in 13x9x2-inch baking dish. Arrange shrimp in single layer atop salt.
Preheat oven to 500°F.
Boil wine, lemon juice, and garlic in saucepan over medium-high heat until liquid is reduced to 1 tablespoon, about 10 minutes. Remove from heat.
Add a few pieces of butter; whisk until creamy. Return pan to low heat. Add a few more pieces of butter; whisk until smooth (do not let mixture boil). Continue whisking in butter, a few pieces at a time. Stir in parsley; season with salt and pepper.
Let stand while shrimp cook.
Roast shrimp on salt until just opaque in center and shells are pink, 6 to 7 minutes.
Transfer sauce to bowl; nestle in salt.
Serves 8.
Information
Category

Seafood, Appetizers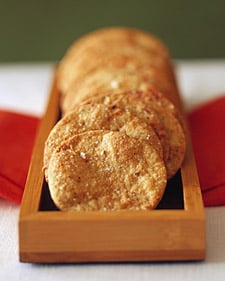 Mushroom and Blue Cheese Crackers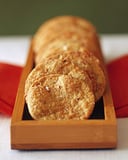 Ingredients
1/4 ounce dried wild mushrooms, about 1/2 cup
8 tablespoons (1 stick) unsalted butter, softened
8 ounces blue cheese, crumbled
2 cups all-purpose flour, plus more for dusting
1 1/4 teaspoons freshly ground pepper
1/4 cup milk
coarse salt
Directions
Place mushrooms in a spice grinder, and grind until fine, about 15 seconds.
Preheat oven to 350 degrees.
In the bowl of a mixer fitted with the paddle, mix butter and blue cheese on medium until combined. Add flour, ground mushrooms, and pepper; mix just until combined and crumbly. Add milk, and mix just until dough comes together (the dough will be quite stiff).
Divide dough evenly into three disks. Wrap two disks in plastic wrap; set aside.
On a lightly floured work surface, roll out one disk to be 1/16 inch thick. Cut out crackers with a 31/2-inch round cutter. Transfer to a baking sheet; prick each with a fork three or four times. Sprinkle lightly with salt.
Repeat with remaining dough. Bake until golden brown, about 22 minutes. Let cool completely on a wire rack. Store crackers in an airtight container up to 1 week.
Makes 3 dozen.
Information
Category

Appetizers, Breads/Crackers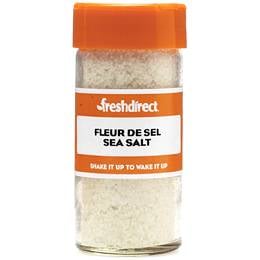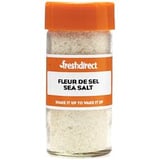 Ingredients
1 pound medium beets, preferably Chioggia
1 baguette, cut crosswise into forty 1/4-inch-thick slices
1 tablespoon extra-virgin olive oil, plus more for brushing
Salt and freshly ground pepper
9 ounces burrata, cut into 40 pieces
Snipped chives, for garnish
Directions
Preheat the oven to 350°. Place the beets in a small roasting pan and add 1/4 inch of water. Cover the pan with foil and bake for about 1 hour, until the beets are tender. Let cool completely.
Increase the oven temperature to 400°. Arrange the baguette slices on 2 large cookie sheets and brush with extra-virgin olive oil. Bake for about 10 minutes, until the bread is crisp.
Peel the beets and halve them lengthwise, then cut cut them crosswise into 1/8-inch slices. Transfer the beets to a bowl. Add the 1 tablespoon of olive oil, season with salt and pepper and toss to coat.
Top each crostini with a piece of burrata and a beet slice. Garnish with the snipped chives and serve immediately.
Serves 12.
Make Ahead: The roasted beets can be refrigerated overnight. Slice and serve at room temperature.
Information
Category

Appetizers, Crostini