Come Party With Me: Black and White Luau — Menu Fab is strictly enforcing the black and white dress code for our upcoming luau, so I'm creating a menu that features black and white dishes. Since the party starts after dinner, we'll offer guests only a few small bites.
Although it's not Hawaiian, a platter of sushi from our favorite Japanese restaurant is perfect for late night noshing. Homemade finger foods will include piña colada scallop brochettes and spicy black bean cakes. The scallops are easy to make and pretty to present. The black bean cakes will be served with a cooling lime scented sour cream.
To get these black and white recipes,
.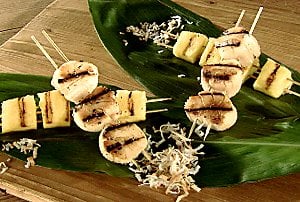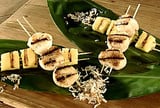 Ingredients
12 large sea scallops
1 (10-ounce) can frozen pina colada mix, thawed (recommended: Bacardi)
1/2 cup light rum
1/2 teaspoon salt
1 teaspoon ground black pepper
1 teaspoon crushed garlic (recommended: Christopher Ranch)
12 ounces fresh pineapple wedges, cut into 1-inch pieces
1/2 cup shredded sweetened coconut, toasted
Directions
Soak 8 bamboo skewers in water for at least 1 hour.
In a large zip-top bag, combine scallops, thawed pina colada mix, rum, salt, pepper, and garlic. Squeeze out air and seal bag. Gently massage to thoroughly combine ingredients.
Marinate in refrigerator 15 minutes or up to 30 minutes. Do not marinate longer then this or the marinade will begin to cook the scallops.
Set up grill for direct cooking or a grill pan over medium heat. Lightly oil the grate when ready to start cooking.
Remove scallops from marinade and discard marinade.
Thread 3 scallops through 4 skewers and thread the pineapple wedges onto the remaining skewers. Season with salt and pepper.
If grilling indoors on a grill-pan, pat the scallops dry before grilling.
Spread toasted coconut on a plate; set aside.
Place brochettes on hot oiled grill and cook until scallops are opaque and just cooked through, about 3 to 4 minutes per side. Grill the pineapple until there are nice grill marks and fruit softens a bit, about 4 minutes.
Remove from grill and immediately press both sides of brochettes into toasted coconut. Serve hot.
Serves 4.
Information
Category

Seafood, Appetizers

Cuisine

North American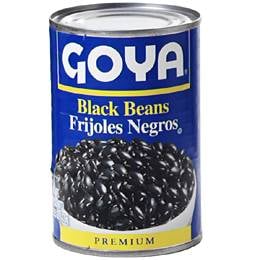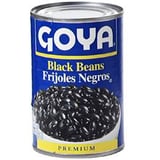 Ingredients
2 tablespoons olive oil
4 scallions, thinly sliced
6 garlic cloves, pressed
1 to 2 jalapeno chiles, finely chopped (ribs and seeds removed for less heat, if desired)
1 tablespoon ground cumin
2 cans (15.5 ounces each) black beans, drained and rinsed
Coarse salt and ground pepper
1 large sweet potato, peeled and coarsely grated (2 cups)
1 large egg, lightly beaten
1/2 cup plain dried breadcrumbs
Lime Sour Cream (see recipe, below)
Directions
Heat broiler.
In a small skillet over medium heat, warm 1 tablespoon olive oil. Cook scallions until softened, 1 minute.
Add garlic, jalapeno, and cumin; cook until fragrant, 30 seconds. Transfer to a large bowl.
Add beans to bowl; mash with a fork or a potato masher, leaving about 1/4 of the beans whole. Season generously with salt and pepper.
Fold in sweet potato, egg, and breadcrumbs. Divide into 8 balls of equal size; flatten into patties.
Brush a baking sheet with remaining tablespoon oil; place patties on sheet, 1/2 inch apart.
Broil 4 inches from heat until golden brown, 8 to 10 minutes. With a thin metal spatula, carefully turn cakes.
Broil until crisp, 2 to 3 minutes more. Serve with Lime Sour Cream.
Makes 8 cakes.
For the Lime Sour Cream: in a small bowl, combine 1/2 cup reduced-fat sour cream with 2 teaspoons fresh lime juice and 1 small minced jalapeno chile (ribs and seeds removed for less heat, if desired) season with coarse salt.
Information
Category

Appetizers, Finger Foods

Cuisine

North American