Come Party With Me: Bridal Brunch — Menu Since her engagement party was such a hit, Ronda's maid of honor asked me to help plan the bridal shower. The event will be an elegant classic brunch.
Guests are invited to help themselves to slices of baked asparagus and yellow pepper frittata. A smoked salmon platter with cream cheese and toasted bagels is a welcome companion. Those looking for a lighter breakfast can opt for a lemon-cherry yogurt parfait.
These homemade dishes will be supplemented with an assortment of toasts from a local bakery and store bought jams and granola. An easy buffet of make-ahead dishes served at room temperature, this versatile and vegetarian menu also works well for Mother's Day. Get the recipes:
.
Baked Asparagus and Yellow Pepper Frittata
From Gourmet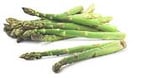 Ingredients
2 pounds thin asparagus
2 large yellow bell peppers
3 shallots
1 medium zucchini
3 scallions
1 tablespoon unsalted butter
10 large eggs
1/2 cup heavy cream
3 tablespoons chopped fresh flat-leafed parsley leaves
1 1/2 teaspoons salt
1/4 teaspoon freshly ground black pepper
Directions
Preheat oven to 350°F. and butter a 13 x 9 x 2-inch glass baking dish (3-quart).
Trim asparagus and diagonally cut into 1/4-inch-wide slices. Cut bell peppers into 1/4-inch-wide strips and mince shallots. Halve zucchini lengthwise and diagonally cut both zucchini and scallions into thin slices.
Have ready a bowl of ice and cold water. In a large saucepan of boiling salted water blanch asparagus 1 minute and drain in a colander. Immediately transfer asparagus to ice water to stop cooking. Drain asparagus well in colander and pat dry.
In a large skillet cook bell peppers and shallots in butter over moderately low heat, stirring occasionally, until peppers are softened, about 10 minutes.
In a large bowl whisk together eggs, cream, parsley, salt, and pepper. Stir in asparagus, bell pepper mixture, zucchini, and scallions.
Pour custard into baking dish and bake in middle of oven until golden and set, about 35 minutes. Cool frittata on a rack. Frittata may be made 1 day ahead and chilled, covered. Bring frittata to room temperature before serving. If desired, loosen frittata from edges of pan and slide onto a platter.
Serves 12.
Information
Category

Breakfast/Brunch, Omelet/Frittata
Smoked Salmon and Whitefish Salad Platter
From Ina Garten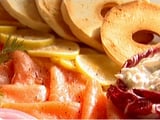 Ingredients
1 1/2 pounds smoked whitefish, skinned and boned
1/2 cup minced red onion
1/2 cup minced celery
1 cup good mayonnaise
1 1/2 tablespoons freshly squeezed lemon juice
3/4 teaspoon kosher salt
1/4 teaspoon freshly ground black pepper
For serving:
6 bagels, sliced in thirds horizontally
1 pound thinly sliced smoked salmon
16 ounces cream cheese, softened
Sliced tomatoes and thinly sliced red onions
Directions
With your hands, flake the whitefish, being careful to discard all the skin and bones.
In a medium bowl, gently combine the whitefish with the red onion, celery, mayonnaise, lemon juice, salt, and pepper. Taste for seasoning.
Toast the bagel slices in a toaster.
Arrange a platter with the smoked salmon, cream cheese, tomatoes, and red onions. Serve with the whitefish salad at room temperature.
Serves 6.
Information
Category

Fish, Breakfast/Brunch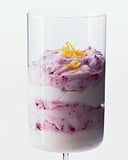 Ingredients
1 cup heavy cream, chilled
1 cup 2 percent Greek-style plain yogurt
1/4 cup cherry preserves
1/4 teaspoon unflavored gelatin
1 teaspoon water
1 tablespoon fresh lemon juice
1 teaspoon finely grated lemon zest
3 tablespoons confectioners' sugar
Directions
In a medium bowl, using an electric mixer, beat the heavy cream at high speed until firm. Add the yogurt and beat just until combined.
Transfer half of the mixture to another bowl and fold in the cherry preserves.
In a small microwave-safe bowl, sprinkle the gelatin over the water and let stand until softened, about 1 minute. Microwave the gelatin at high power for 5 seconds, just until melted.
Add the gelatin to the plain whipped cream mixture along with the lemon juice, lemon zest and confectioners' sugar and beat at medium speed just until combined.
Spoon half of the lemon cream into 4 wineglasses and top with half of the cherry cream. Top with the remaining lemon and cherry creams and refrigerate for 20 minutes before serving.
Serves 4.
Make ahead: The parfaits can be refrigerated overnight.
Information
Category

Breakfast/Brunch