 Thanksgiving isn't Thanksgiving without pumpkin pie. While you could ask guests to bring dessert, I think the hostess should take on this sweet task. If you don't do much baking, it's more economical to purchase a ready-made pie dough.
However, if you have ingredients like flour and butter on hand, simply use those to make the pie. The classic recipe from Libby's is delicious and minimal. Ditch the whipped cream topping for a truly budget, fit-friendly dessert. To look at the recipe,
.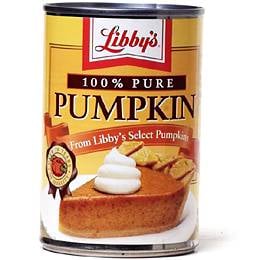 Libby's Famous Pumpkin Pie
From Libby's
Ingredients
1 pie dough (store bought or homemade)
3/4 cup granulated sugar
1 teaspoon ground cinnamon
1/2 teaspoon salt
1/2 teaspoon ground ginger
1/4 teaspoon ground cloves
2 large eggs
1 can (15 ounces) Libby's 100-percent pure pumpkin
1 can (12 ounces) evaporated milk, preferably Nestle Carnation
Directions
Preheat oven to 425°F. On a lightly floured work surface, roll pie dough into a 12-inch round. With a dry pastry brush, sweep off the excess flour; fit dough into a 9-inch deep-dish glass pie plate, pressing it into the edges. Trim to a 1-inch overhang all around. Crimp edge as desired. Prick bottom of dough all over with a fork; set aside.
In a small bowl, mix together, sugar, cinnamon, salt, ginger, and cloves. Beat eggs together in a large bowl. Add sugar mixture and pumpkin; stir to combine. Stir in evaporated milk until well combined.
Pour mixture into pie shell and bake for 15 minutes. Reduce temperature to 350°F; bake until filling is set, 20 to 30 minutes.
Transfer to a wire rack and let cool 2 hours. Serve with whipped cream, if desired, or transfer to a refrigerator until ready to serve.
Serves 8.
Information
Category

Desserts, Pies/Tarts

Cuisine

North American