Come Party With Me: Budget Thanksgiving — Menu An easy way to cut the budget of your Thanksgiving feast is to make the dinner a potluck. You supply the appetizers, turkey, and one side, then ask the guests to fill in the blanks. Not going overboard on side dishes is another great way to trim costs. When there are too many side options guests can feel overwhelmed and may end up over-eating. Do them a favor and don't offer more then four side dishes.
Keep in mind that even on a limited budget, you can still create a delicious and elegant meal. Have goat cheese stuffed mushrooms with breadcrumbs waiting for your guests to arrive. Purchase a frozen turkey instead of a fresh one. Most supermarkets have sales around Thanksgiving on frozen turkeys and you can find one for $10 or less. Season the turkey with everyday ingredients like red onions and oranges. Make simple mashed potatoes as a side.
To get these wallet friendly recipes,
.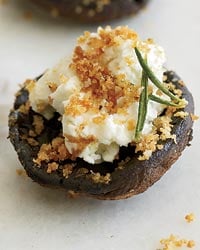 Goat Cheese–Stuffed Mushrooms with Bread Crumbs
From Food and Wine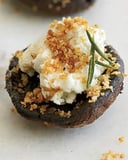 Ingredients
24 large cremini mushrooms (1 1/2 pounds), stems discarded
1/4 cup plus 2 tablespoons extra-virgin olive oil
1 teaspoon rosemary leaves, plus one 3-inch sprig of rosemary
Kosher salt and freshly ground pepper
3 tablespoons fine bread crumbs
6 ounces fresh goat cheese, cut into 24 pieces
Directions
Preheat the oven to 400°.
In a bowl, toss the mushrooms with 3 tablespoons of the oil and the rosemary leaves and season with salt and pepper.
Transfer the mushrooms to a baking sheet, rounded side up. Roast for about 30 minutes, until tender and browned around the edges. Let cool to room temperature, about 15 minutes.
In a skillet, heat the remaining 3 tablespoons of oil. Add the rosemary sprig and cook over moderately high heat until the leaves are crisp, 30 seconds. Drain on paper towels, then strip off the leaves.
Pour off all but 1 teaspoon of the rosemary oil and reserve it for another use.
Add the bread crumbs to the skillet and toast over moderate heat until golden and crisp, 2 minutes. Stir in the fried rosemary leaves and season with salt and pepper.
Gently press a piece of goat cheese in the center of each mushroom, sprinkle with the bread crumbs and serve.
Serves 8.
Make Ahead: The goat cheese–filled mushrooms can be refrigerated for up to 1 day. Bring to room temperature and sprinkle with the bread crumbs just before serving.
Per Serving 138 cal, 11 gm fat, 3.9 gm sat fat, 5 gm carb, 0.6 gm fiber.
Information
Category

Appetizers, Finger Foods

Cuisine

North American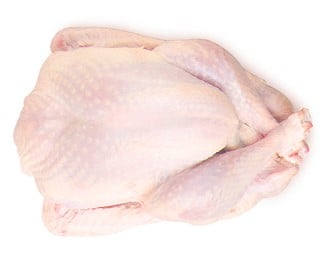 Roast Turkey with Oranges, Red Onions, and Pan Gravy
From Gourmet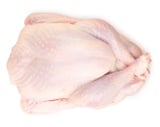 Ingredients
For turkey
1 (12- to 14-lb) turkey (preferably kosher), any quills removed if necessary and neck and giblets (excluding liver) reserved for making stock
1 1/4 teaspoons salt
1/2 teaspoon black pepper
2 navel oranges, each cut into 8 wedges
3 small red onions, each cut into 8 wedges
5 bay leaves (not California)
3/4 stick (6 tablespoons) unsalted butter, melted
For gravy
Pan juices from roast turkey
About 4 cups turkey stock (page 198)
1/3 cup all-purpose flour
Garnish: 4 roasted onions, each cut into 8 wedges (optional); fresh bay leaves (do not eat)
Directions
Roast turkey: Preheat oven to 425°F.
Rinse turkey inside and out and pat dry. Sprinkle turkey inside and out with salt and pepper, then fold neck skin under body and secure with small skewer. Stuff large cavity with oranges, 1 onion, and bay leaves. Tie drumsticks together with kitchen string and secure wings to body with small skewers.
Put turkey on a rack set in a large flameproof roasting pan and roast in middle of oven 30 minutes.
While turkey is roasting, toss remaining 2 onions with 2 tablespoons melted butter.
Reduce oven temperature to 350°F. Brush remaining 1/4 cup butter over turkey and roast 30 minutes more.
Baste turkey and scatter buttered onion wedges around it, then roast, basting turkey every 30 minutes (add a little water to pan if onions get too dark) until an instant-read thermometer inserted into fleshy part of a thigh (do not touch bone) registers 155°F, 1 1/2 to 2 hours more (total roasting time: 2 1/2 to 3 hours).
Transfer turkey to a platter (do not clean roasting pan) and let stand 25 minutes (temperature will rise to 165°F).
Make gravy: Transfer pan juices with onions to a 2-quart glass measure, then skim off and reserve 1/4 cup fat. Add enough turkey stock to pan juices to make 4 1/2 cups total.
Set roasting pan across 2 burners, then add 1 cup stock mixture and deglaze pan by boiling over moderately high heat, stirring and scraping up brown bits. Add remaining stock mixture and bring to a simmer.
Pour stock through a fine sieve back into glass measure and discard onions.
Whisk together reserved fat and flour in a large heavy saucepan and cook roux over moderately low heat, whisking, 3 minutes. Add hot stock mixture in a fast stream, whisking constantly to prevent lumps, then simmer, whisking occasionally, until thickened, about 10 minutes.
Stir in any additional turkey juices accumulated on platter and season gravy with salt and pepper.
Serve turkey with gravy on the side.
Serves 8-10.
Information
Category

Poultry, Main Dishes

Cuisine

North American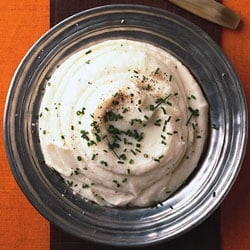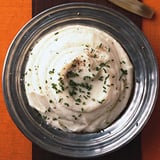 Ingredients
4 pounds baking potatoes, peeled and quartered
1 1/2 cups half-and-half
2 sticks (8 ounces) butter, softened and cut into pieces
Salt and pepper
Fresh chives, snipped, for garnish
Directions
In a large pot of salted water, bring the potatoes to a boil. Cook until tender, about 30 minutes. Drain; reserve the pot.
Meanwhile, in a small saucepan or a microwave, heat the half-and-half until steaming. Remove from the heat and stir in the butter until melted. Keep warm.
Using a sieve or food mill, press the potatoes, a few pieces at a time, into the empty pot.
Whisk the cream mixture into the potatoes and heat over low heat until warm. Season with salt and pepper. Spoon into a serving bowl and top with the chives.
Serves 8.
Information
Category

Side Dishes, Potato

Cuisine

North American