Come Party With Me: Campfire Fiesta — Menu When my friends and I go camping, the food planning comes first. Once we've figured out who's making every appetizer, cocktail, main dish, and dessert, we focus on other details like who's bringing bug spray and how to get where we're going.
So for this week's campfire fiesta, I'm forgoing invitations in favor of a flurry of emails to work out the logistics. September is prime camping time: It's just getting summery in Northern California, while the more scorching regions of the country are cooling off. This Mexican-tinged menu celebrates the last days of Summer by featuring lots of fresh produce.
To start, I'm offering tortilla chips served with a gourmet caramelized black bean "butter" and store-bought pico de gallo. Some chips will inevitably get crushed in transit, so we'll put those into the main dish — tamale chicken packets — which cook over the fire with little effort. I'll also be grilling corn, brushed with lime and feta cheese, and a jicama-mango salad that you can make in advance and assemble on site. To get the recipes,
.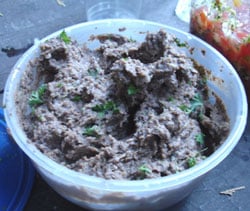 Caramelized Black Bean "Butter"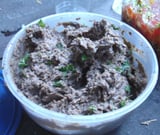 Ingredients
1 tablespoon olive oil
4 cups chopped onion
2 (15-ounce) cans black beans, rinsed and drained
1 tablespoon balsamic vinegar
2 teaspoons unsweetened cocoa
1/2 teaspoon salt
1/2 teaspoon paprika
1 tablespoon chopped fresh parsley
Directions
Makes 3 cups.
Heat oil in a large nonstick skillet over medium-high heat. Add onion; sauté 10 minutes or until golden.
Place onion, beans, vinegar, cocoa, salt, and paprika in a food processor; process until smooth.
Place bean mixture in a bowl. Sprinkle with parsley.
Nutritional Information
CALORIES 17(2% from fat); FAT 0.4g (sat 0.1g,mono 0.2g,poly 0.0g); IRON 0.2mg; CHOLESTEROL 0.0mg; CALCIUM 7mg; CARBOHYDRATE 3.1g; SODIUM 48mg; PROTEIN 0.7g; FIBER 0.8g
Information
Category

Dips, Appetizers