Come Party With Me: Change the World — Menu My sister is on the cover of a fabulous new book called Change the World For Ten Bucks. The idea behind the book — which is written by an organization called We Are What We Do — is small actions multiplied by lots of people equals big change. Basically if everyone stops using plastic bags and recycles more, the world will be a better place! I'm a huge fan of the book and the concept.
Thus, I'm doing my part to help: my sister has organized a day of volunteerism for a large group of people, and I'm donating a delicious lunch for them to enjoy. Since Earth Day is tomorrow, I invite you to join me by packing this picnic and planning your own day of volunteerism.
To keep energy up I'm making maple-almond trail mix with dried bananas. I'll also pack a bunch of fresh fruit (apples, bananas, strawberries, etc.) for the group to snack on. For lunch, the volunteers can choose either roasted red pepper sandwiches with tapenade and basil or curried chicken salad with spiced chickpeas. Both items are healthy and well-balanced. To look at the recipes,
.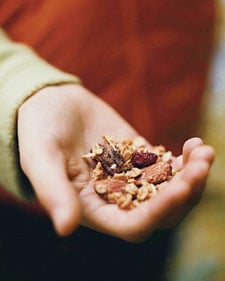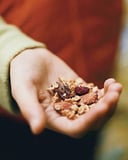 Ingredients
4 tablespoons unsalted butter, melted
1 cup pure maple syrup, preferably Grade B
2 cups raw unsalted almonds (about 10 ounces)
1 cup wheat germ
3 cups rolled oats
1/2 teaspoon coarse salt
1 cup cup dried bananas (about 4 ounces), cut into 1/2-inch pieces
2/3 cup cup dried cranberries (about 3 ounces)
Directions
Preheat oven to 375 degrees.
Combine butter, maple syrup, almonds, wheat germ, oats, and salt in a large bowl. Spread mixture on a rimmed baking sheet lined with parchment paper.
Bake, stirring once and rotating sheet after 20 minutes, until just golden, 35 to 40 minutes total. Let cool on sheet on a wire rack.
Transfer to a large bowl, and stir in bananas and cranberries. Trail mix can be stored in an airtight container for up to 1 week.
Makes about 8 cups.
Information
Category

Snacks, Nuts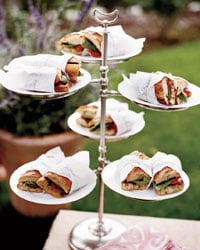 Roasted Red Pepper Sandwiches With Tapenade and Basil
From Food and Wine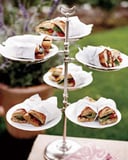 Ingredients
5 large red bell peppers
2 garlic cloves, minced
2 teaspoons chopped thyme
2 teaspoons chopped rosemary
1 can anchovy fillets (3 ounces), drained and minced
Salt and freshly ground pepper
Two 24-inch baguettes, halved lengthwise
1/3 cup black olive tapenade from a jar
20 basil leaves
Directions
Roast the red peppers over a gas flame until charred all over. Transfer the peppers to a bowl and let cool.
Discard the skin and seeds and quarter the peppers. In a bowl, toss the peppers with the garlic, thyme, rosemary and about one-fourth of the anchovies and season with salt and pepper. Refrigerate the red peppers overnight.
Light a grill. Toast the baguettes over a hot fire, cut sides down. Spread the bottom halves of the baguettes with the tapenade.
Top with the marinated peppers and their juices, basil leaves and the remaining anchovies. Close the sandwiches and cut into 12 pieces. Wrap in napkins; serve.
Serves 12.
Make Ahead: The marinated peppers can be refrigerated for up to 2 days.
Information
Category

Main Dishes, Sandwiches

Cuisine

Mediterranean/Middle Eastern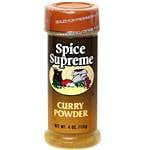 Curried Chicken Salad With Spiced Chickpeas and Raita
From Gourmet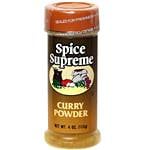 Ingredients
For curried chicken salad:
1 medium onion, chopped (1 cup)
1 tablespoon minced garlic
1 tablespoon minced peeled ginger
2 tablespoons vegetable oil
1 tablespoon curry powder
1 teaspoon ground cumin
2 medium tomatoes, chopped (1 cup)
1 cup plain yogurt
2 tablespoons cilantro
1 rotisserie chicken, meat coarsely shredded (3 to 4 cups)
1 cup red grapes, halved
For chickpeas:
1 tablespoon vegetable oil
1 (19-ounce) can chickpeas, rinsed, drained, and patted dry (2 cups)
1 teaspoon ground cumin
1/2 teaspoon turmeric
1/4 teaspoon cayenne
For raita and topping:
1 cup plain yogurt
1 seedless cucumber, peeled, cored, and chopped (2 cups)
2 tablespoons chopped mint
1/2 cup sliced almonds, toasted
4 (16-ounce) wide jars or containers with lids
Directions
Make curried chicken salad: cook onion, garlic, and ginger in oil in a 10-inch heavy skillet over medium-low heat, stirring occasionally, until softened, about 5 minutes. Add curry, cumin, and 1 1/2 teaspoon salt and cook, stirring, 2 minutes.
Add tomatoes and cook over medium-high heat, stirring, until sauce is thickened, about 5 minutes. Transfer to a bowl and stir in yogurt, cilantro, and chicken. Cool to room temperature.
Make chickpeas: heat oil in cleaned skillet over medium-high heat until it shimmers, then cook chickpeas, stirring, 1 minute. Add cumin, turmeric, cayenne, and 1/4 teaspoon salt and cook, stirring to coat, until skillet is dry, about 2 minutes. Cool to room temperature.
Make raita: stir together yogurt, cucumber, mint, and 1/2 teaspoon salt.
Assemble jars: divide grapes among jars and layer curried chicken, raita, chickpeas, and almonds on top.
Serves 4.
Make Ahead: Curried chicken salad and spiced chickpeas can be made 1 day ahead and chilled separately. Assembled jars can be chilled up to 6 hours. Serve at room temperature.
Information
Category

Poultry, Main Dishes

Cuisine

Indian