Come Party With Me: Chinese New Year — Menu The lunar New Year and the year of the ox begins on Jan. 26. To celebrate, gather friends and family for a Chinese-style banquet. Food symbolism plays an important role in Chinese New Year, so select the menu carefully. Start by serving mushroom spring rolls. The crispy, golden rolls represent gold bouillon. Serving a chicken whole represents a sense of unity — this recipe produces juicy, tender meat. Chinese noodles seasoned with soy sauce, sesame oil, and cilantro signify longevity. Oysters braised with sea moss is a traditional dish that brings luck to business transactions and rounds out the menu. To look at these recipes,
.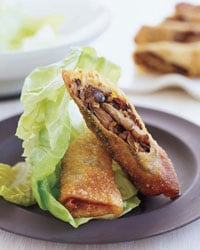 Mushroom Spring Rolls with Creamy Ginger Sauce
From Food and Wine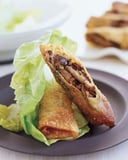 Ingredients
3 tablespoons unsalted butter
1/2 pound oyster mushrooms, cut into 1/2-inch pieces
1/2 pound shiitake mushrooms, stems discarded, caps sliced 1/4 inch thick
1/2 pound cremini mushrooms, sliced 1/4 inch thick
2 tablespoons Shaoxing wine or dry sherry
2 tablespoons soy sauce
Salt and freshly ground pepper
2 tablespoons extra-virgin olive oil
2 garlic cloves, thinly sliced
1 plump lemongrass stalk, tender white inner bulb only, minced
1 red Thai chile, minced
1 medium shallot, minced
1 tablespoon plus 1 1/2 teaspoons minced fresh ginger
1/2 teaspoon finely grated lemon zest
10 thin egg roll or spring roll wrappers
1 large egg, beaten
1/4 cup mayonnaise
1/4 cup vegetable oil, plus more for frying
1 tablespoon chopped tarragon
1 tablespoon fresh lime juice
1 tablespoon rice vinegar
10 Boston lettuce leaves, halved
Directions
In a very large skillet, melt the butter. Add all of the mushrooms, the wine and soy sauce and season with salt and pepper. Cook over high heat, stirring, for 1 minute. Cover and cook over moderately low heat, stirring a few times, until the mushrooms have released their liquid and are tender, about 8 minutes.
Uncover and cook over moderate heat, stirring occasionally, until browned, about 4 minutes longer.
In a small skillet, heat the olive oil. Add the garlic, lemongrass, chile, shallot and 1 tablespoon of the ginger and cook over low heat, stirring occasionally, until the vegetables are golden brown, about 7 minutes. Add the lemon zest, then stir the mixture into the mushrooms.
On a work surface, lightly brush an egg roll wrapper with the beaten egg. Spread 1/4 cup of the mushrooms on the lower third of the wrapper; bring the lower edge up and over the filling and roll up, folding in the sides as you go. Lightly flatten the roll and brush it with the beaten egg. Repeat with the remaining wrappers and filling.
In a blender, puree the mayonnaise with the 1/4 cup of vegetable oil, the tarragon, lime juice, vinegar and the remaining 1 1/2 teaspoons of ginger until smooth. Season with salt and pepper.
Line a baking sheet with paper towels. In a medium skillet, heat 1 inch of vegetable oil to 250°. Add 3 or 4 spring rolls and fry gently until nicely browned, about 1 minute per side. Drain on the prepared baking sheet and repeat the frying with the remaining spring rolls.
Cut the rolls in half on the diagonal, wrap them in lettuce leaves and serve right away with the ginger sauce.
Makes 10 spring rolls.
Information
Category

Appetizers, Finger Foods

Cuisine

Chinese