Come Party With Me: Cinco de Mayo — Menu Just because Cinco de Mayo falls on a Tuesday this year doesn't mean you can't entertain! I've got a delicious menu that consists of fast, yet flavorful Mexican dishes. Invite friends over for an early celebration this weekend, or wait until Tuesday evening to party on the actual date.
Start by taking some help from the store and purchase your favorite brand of guacamole and fresh tomato salsa. Supplement these dips with a quick homemade black bean salsa seasoned with garlic and jalapenos. For the main course, serve chicken enchiladas with creamy green sauce. If you're really pressed for time, make the enchiladas with a rotisserie chicken.
While the enchiladas bake, throw together a scrumptious side dish in the form of a festive watermelon and papaya salad with tequila vinaigrette. Sound delicious? Wait until you read the recipes — your mouth will be watering! Check them out now:
.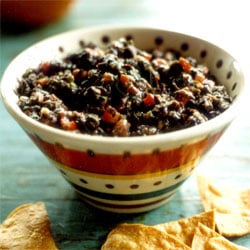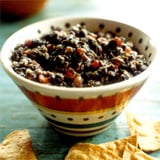 Ingredients
Two 15-ounce cans black beans, 1 drained
1/4 cup finely chopped white onion
3/4 cup finely chopped plum tomatoes
1 clove garlic, finely chopped
1 jalapeño, seeded, finely chopped
2 tablespoons fresh lime juice
1/4 cup chopped cilantro
1/2 teaspoon salt
1/2 teaspoon Tabasco sauce
Directions
Place the 2 cans of black beans in a large bowl. Using a potato masher or your hands, partially mash the beans until coarse and slightly pasty.
Add the remaining ingredients and mix until well incorporated. Season to taste with salt and Tabasco sauce, if necessary.
Makes 4 cups.
Information
Category

Dips, Appetizers

Cuisine

Mexican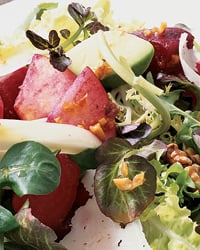 Watermelon and Papaya Salad with Tequila Vinaigrette
From Food and Wine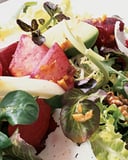 Ingredients
1/4 cup fresh lime juice
2 tablespoons tequila
1/4 cup plus 2 tablespoons extra-virgin olive oil
Salt and freshly ground black pepper
1 small papaya (3/4 pound)—peeled, seeded and cut into 1-by-1/2-inch batons (2 cups)
3/4 pound seedless, rindless watermelon, cut into 1-by-1/2-inch batons (2 cups)
1/2 pound jicama, peeled and cut into 1-by-1/2-inch batons (2 cups)
5 ounces mesclun greens
1 Hass avocado, cut into 1/2-inch cubes
Directions
In a large bowl, whisk the lime juice with the tequila. Whisk in the olive oil and season the vinaigrette with salt and pepper.
Add the papaya, watermelon, jicama and greens and toss well. Add the avocado and toss gently. Season with salt and pepper and serve right away.
Serves 4.
Information
Category

Salads, Fruit

Cuisine

Mexican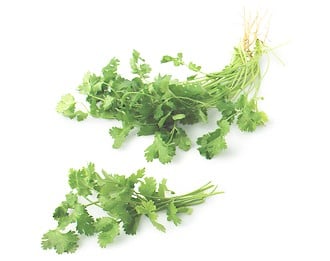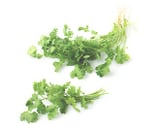 Ingredients
3 pounds bone-in, skin-on chicken breast halves
Coarse salt and ground pepper
5 garlic cloves, unpeeled
2 jars (16 ounces each) medium green salsa
3/4 cup heavy cream
12 corn tortillas (6-inch)
12 ounces Monterey Jack cheese, coarsely shredded (3 cups)
1/2 cup fresh cilantro, chopped (optional)
Directions
Preheat oven to 450 degrees. Season chicken with salt and pepper; place with garlic on a rimmed baking sheet. Bake until an instant-read thermometer inserted in thickest part of breast (avoiding bone) registers 165 degrees, 25 to 30 minutes.
Meanwhile, in a large bowl, combine salsa and cream.
Reduce oven temperature to 350 degrees. Once chicken is cool enough to handle, shred meat, discarding skin and bones. Peel and chop garlic. In a large bowl, combine chicken, garlic, and 1/2 cup salsa mixture.
Stack tortillas flat, and wrap in damp paper towels; microwave on high for 1 minute to soften.
Working with one tortilla at a time, dip in salsa mixture, lay flat, and fill with 1/3 cup chicken mixture. Roll up and arrange, seam side down, 8 enchiladas lengthwise and 4 crosswise in a 9-by-13-inch baking dish. Top with remaining salsa mixture, then cheese.
Bake until cheese is browned and salsa is bubbling, 40 to 45 minutes; let rest 10 minutes. Serve, sprinkled with cilantro, if desired.
Serves 6.
Information
Category

Poultry, Main Dishes

Cuisine

Mexican