 After you have finished your Thanksgiving meal, clean the kitchen and take a nice, leisurely walk. By the time you return home you will feel refreshed and ready for a piece of pie and a glass of champagne. Pumpkin pie is the obvious choice for a decadent dessert. Jazz yours up with an amaretto whipped cream. Serve a second dessert option in the form of a chocolate pecan pie. Slice up any leftover pie and give to guests as they leave. For the recipes to these divinely delicious desserts, please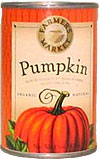 Classic Pumpkin Pie
From Cooking Light magazine
Filling:
3/4 cup packed brown sugar
1 3/4 teaspoons pumpkin pie spice
1/4 teaspoon salt
1 (12-ounce) can evaporated low-fat milk
2 large egg whites
1 large egg
1 (15-ounce) can unsweetened pumpkin
Crust:
1/2 (15-ounce) package refrigerated pie dough (such as Pillsbury)
Cooking spray
Topping:
1/4 cup whipping cream
1 tablespoon amaretto (almond-flavored liqueur)
2 teaspoons powdered sugar
Position oven rack to lowest position. Preheat oven to 425°.
To prepare filling, combine first 6 ingredients in a large bowl, stirring with a whisk. Add pumpkin, and stir with a whisk until smooth.
To prepare crust, roll dough into an 11-inch circle; fit into a 9-inch pie plate coated with cooking spray. Fold edges under and flute.
Pour pumpkin mixture into the crust. Place pie plate on a baking sheet. Place baking sheet on lowest oven rack.
Bake at 425° for 10 minutes.
Reduce oven temperature to 350° (do not remove pie from oven); bake an additional 50 minutes or until almost set. Cool completely on wire rack.
To prepare topping, beat cream with a mixer at high speed until stiff peaks form. Add the amaretto and powdered sugar, and beat until blended. Serve with pie.
Serves 12.
Nutritional Information: CALORIES 222(30% from fat); FAT 7.4g (sat 3.7g,mono 0.7g,poly 0.1g); PROTEIN 4.1g; CHOLESTEROL 32mg; CALCIUM 104mg; SODIUM 241mg; FIBER 3g; IRON 0.8mg; CARBOHYDRATE 35.3g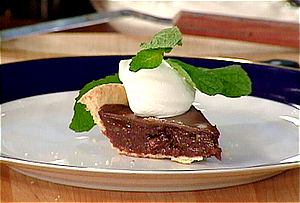 Chocolate Pecan Pie
From Emeril Lagasse
1 sweet pie crust, recipe follows
1 cup milk chocolate chips
2/3 cup corn syrup
1/3 cup sugar
3 large eggs, beaten
1 teaspoon pure vanilla extract
1 cup coarsely chopped pecan pieces
1/2 cup chopped bittersweet chocolate
2 tablespoons vegetable oil
1 cup heavy cream
1 tablespoon confectioners' sugar
Edible gold leaf, torn or cut into flakes, garnish (optional)
Preheat the oven to 400 degrees F.
On a lightly floured surface, roll out the dough to an 11-inch circle. Transfer to a 9-inch pie pan, trim and flute the edges. Let rest refrigerated for 20 minutes.
Cover with parchment paper and pie weights. Bake until set, 12 to 15 minutes.
Remove the paper and weights and cook until just golden, 8 to 10 minutes. Remove from the oven and cool.
In the top of a double boiler, gently melt the chocolate chips over almost simmering water. Remove from the heat.
In a large bowl, combine the melted chocolate with the corn syrup, sugar, eggs, vanilla, and pecans. Pour into the cooled pie crust and bake for 10 minutes.
Reduce the oven temperature to 350 degrees F and bake for an additional 25 minutes.
Remove from the oven and cool on a rack.
Place half of the chopped bittersweet chocolate in a small bowl. Place the remaining bittersweet chocolate and the oil in the top of a double boiler, or in a small metal bowl set over a pot of simmering water. Heat the chocolate, whisking, until melted.
Pour the melted chocolate over the chocolate in the bowl, whisking to melt. Pour over the warm pie, spreading to the edges to coat the top.
Refrigerate until well chilled, at least 2 hours.
In a medium bowl, whip the cream until soft peaks start to form. Add the sugar and whip to stiff peaks.
Remove the pie from the refrigerator, slice and arrange on plates. Garnish each slice with edible gold flakes and serve with whipped cream on the side.
Serves 6-8.
Basic Sweet Pie Crust:
8 ounces flour, about 1 1/2 cups plus 2 tablespoons
1 tablespoon sugar
1/2 teaspoon salt
1 stick (1/4 pound) cold butter, cut into 1/4-inch pieces
2 tablespoons solid vegetable shortening
4 to 6 tablespoons ice water
Sift the flour, sugar, and salt into a large bowl. Using your fingers, work in the butter and shortening until the mixture resembles coarse crumbs.
Add 2 tablespoons of ice water and work with your fingers until the water is incorporated and the dough comes together.
Add more water as needed to make a smooth dough, being careful not to over mix. Form the dough into a disk, wrap tightly in plastic wrap, and refrigerate for at least 30 minutes before using.
Makes 1 (9 or 10-inch) pie crust.