Come Party With Me: Classic Thanksgiving — Menu (Other Sides) Besides mashed and sweet potato sides, no Thanksgiving meal is complete without the quintessential cranberry sauce. My fragrant recipe is flavored with fresh squeezed orange juice, brown sugar, and cinnamon sticks. The whole house will smell warm and delicious while this sauce bubbles away on the stove.
You could serve a crisp salad or creamed spinach, but sautéed green beans are the definitive Thanksgiving vegetable. Tossed with garlic, onion, and bread crumbs, these green beans are a crisp, melt in your mouth side dish. Get the recipes to both when you,

Cranberry Sauce
From Elena Osterreicher
2 12 ounce packages fresh cranberries
1 orange, zested
2 cups fresh squeezed orange juice
2 cups packed brown sugar
3 cinnamon sticks
In a medium saucepan, add all of the ingredients and stir to combine.
Add enough water to cover the mixture and bring to a boil over high heat.
Reduce the heat to low and simmer, stirring occasionally, for about an hour.
Taste the sauce for sweetness and adjust if necessary. If too tart, add a bit more sugar; if too sweet, add a bit more juice.
Continue cooking, stirring occasionally, until the mixture is nice and thick in consistency, another 30 minutes to an hour*.
Let mixture cool and serve with turkey, mashed potatoes, etc.
Serves 20-24.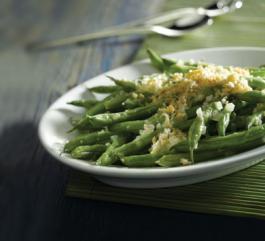 Sauteed Green Beans
From Gay Lea
1/3 cup butter
1 cup coarse fresh breadcrumbs
1 small onion finely chopped
3 cloves garlic minced
1 lb fresh green beans, trimmed
1/2 cup chicken or vegetable stock
For breadcrumbs: melt 2 tbsp of the butter in skillet over medium heat; add breadcrumbs.
Cook, stirring, for about 5 minutes or until breadcrumbs are toasted and golden. Remove from skillet; set aside.
Melt 3 tbsp of butter in skillet. Add onion and garlic; cook, stirring, for 3 minutes.
Add green beans; cook, stirring, for 3 minutes.
Pour in stock. Bring to boil, reduce heat and simmer, covered for about 8 minutes or until beans are almost tender.
Uncover and cook, stirring, for 3 to 5 minutes or until liquid is absorbed and beans are tender. Stir in remaining butter until well glazed.
Transfer beans to serving platter. Sprinkle with toasted breadcrumbs.
Serves 4-6.