Come Party With Me: Classic Thanksgiving — Menu (Potato Sides) Once you have decided on a turkey recipe, it's time to think about the sides. Potatoes are the classic companion to the stuffed bird, so serve both mashed white potatoes and baked sweet potatoes. You could flavor the mashed potatoes with a variety of options, but if serving with gravy, keep them simple and make a roasted garlic version. For a delicious sweet potato casserole, mix the cooked flesh with sugar, butter, and bourbon topped with a pecan butter crumble. To look at these recipes,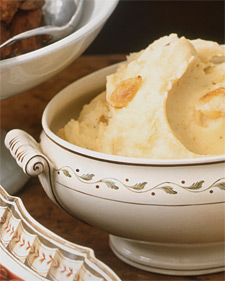 Roasted Garlic Mashed Potatoes
From Martha Stewart
2 large heads garlic
1 teaspoon olive oil
4 pounds all-purpose Maine potatoes, peeled and quartered
Salt and freshly ground black pepper
8 tablespoons (1 stick) unsalted butter
1 1/4 cups heavy cream
Heat oven to 425 degrees.
Slice tops 1/4-inch off garlic heads, and discard. Coat heads with olive oil, and wrap heads in aluminum foil. Bake until tender and golden, about 45 minutes. Remove from oven, and let stand until cool enough to handle. Carefully peel garlic cloves; set aside.
Place potatoes in a large stockpot, cover with cold salted water, and bring to a boil. Cook until very tender, about 12 minutes. Drain in a colander, and pass through a potato ricer or food mill over a large bowl.
Heat butter and cream in a saucepan until butter has melted and cream is hot.
Pour over riced potatoes, season with salt and pepper, and stir well to combine. Gently stir in the roasted garlic cloves; serve.
Serves 8.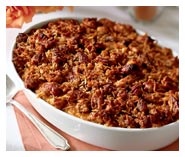 From Bronwyn Moffet
Filling
5-6 lbs sweet potatoes or yams
3 eggs
1/4 cup sugar
1/2 cup melted butter
1/2 cup whipping cream
2 tablespoons bourbon
1 teaspoon vanilla
Topping
1/2 cup melted butter
1 cup pecans
1 cup brown sugar
1 cup flour
Preheat the oven to 375°F. Fork sweet potatoes. Place in the oven. Bake for 45 minutes or until soft. Remove from oven and let cool.
Once the potatoes are cool enough to handle, slice in half and scoop flesh into a large bowl. Mash them slightly.
Mix in the eggs, sugar, melted butter, cream, bourbon, and vanilla. Stir to combine.
Lower the heat to 350°F. Butter a 2 quart baking dish.
In a separate bowl, combine the topping ingredients.
Fill the baking dish with the sweet potato mixture and top with the mixed topping, crumbling the pecan mixture over the entire casserole.
Bake, uncovered in the oven for 40 minutes until golden.
Remove and serve.
Serves 10-12.