 As much as I love ordering eggs Benedict or pancakes when I am out, poaching eggs and flipping pancakes isn't practical when hosting a brunch in your own home. Instead choose dishes that can be made the night before and are easily finished in the morning.
A sausage and egg casserole with sun-dried tomatoes and mozzarella is an easy crowd pleaser. Serve an apple potato gratin on the side. A beautiful, fresh fruit platter rounds out the breakfast. Supplement the menu with your favorite store bought breads, yogurts, or pastries.
For these recipes,
.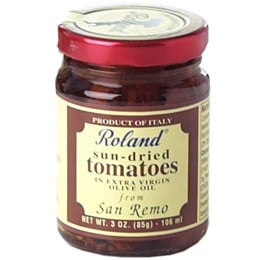 Sausage and Egg Casserole with Sun Dried Tomatoes and Mozzarella
From Bon Appetit magazine
Ingredients
1 pound Italian sweet sausage, casings removed
1/2 cup chopped shallots
2 garlic cloves, minced
1/2 cup chopped drained oil-packed sun-dried tomatoes
4 tablespoons chopped fresh parsley
5 large eggs
3 large egg yolks
1 cup half and half
1 cup whipping cream
2 cups grated mozzarella cheese
1/2 teaspoon salt
Directions
Preheat oven to 375°F. Butter 13x9x2-inch glass baking dish.
Sauté sausage in medium nonstick skillet over medium heat until brown and cooked through, breaking up with back of fork into small pieces, about 10 minutes.
Add shallots and garlic and sauté 3 minutes. Add sun-dried tomatoes and 2 tablespoons parsley; stir 1 minute. Spread sausage mixture in prepared dish. (Can be made 1 day ahead. Cover and refrigerate.)
Whisk eggs, egg yolks, half and half, whipping cream, 1 1/2 cups cheese, and salt in large bowl to blend well.
Pour egg mixture over sausage mixture in dish. Sprinkle remaining 1/2 cup cheese and 2 tablespoons parsley over.
Bake until top of casserole is golden brown and knife inserted into center comes out clean, about 30 minutes. Let stand 5 minutes before serving.
Serves 8.
Information
Category

Breakfast/Brunch, Casseroles

Cuisine

North American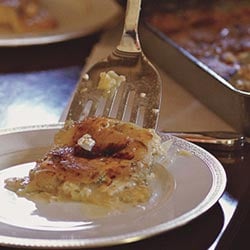 Ingredients
1 cup heavy cream
2 pounds baking potatoes, peeled and thinly sliced
Salt and pepper
Chopped fresh thyme
2 Granny Smith apples -- peeled, cored and thinly sliced
3/4 pound white cheddar cheese, preferably Vermont, grated
Directions
Preheat the oven to 350º. Grease a 9-by-13-inch baking dish.
Pour 1/3 cup heavy cream into the dish. Place a layer of overlapping potato slices on top and season with salt, pepper and thyme.
Add a layer of apple slices, sprinkle with one third of the cheese, some thyme, salt and pepper.
Repeat the layering two more times, pressing the layers down with your fingers so the cream works its way into each layer.
Cover the dish loosely with foil and bake until the potatoes are tender when pierced with a fork, about 1 1/2 hours.
Uncover the dish and cook under the broiler until the top is golden, about 3 minutes.
Serves 8.
Information
Category

Potatoes, Breakfast/Brunch

Cuisine

French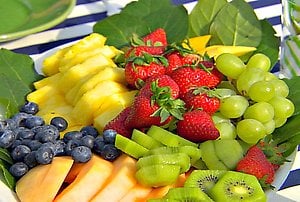 Ingredients
Suggested list of ingredients:
2 small ripe melons
1 "golden" pineapple
2 bunches grapes
1 pint fresh figs
1 pint raspberries
1 pint strawberries
1 pint blueberries
1 red papaya
Directions
Begin the platter with a base of ripe, colorful, sliced melons and pineapple--for example, cantaloupe, honeydew, Galia, or Cavaillon melons, plus the new "golden" pineapples. Peel the outside of a whole melon, cut it in half through the stem end, and scoop out the seeds. Place the melon halves cut side down on a board, and slice them straight across into 1/2-inch-thick slices. Fan each half-melon out slightly and arrange it on the platter.
Next, cut off the top and bottom of the pineapple, peel the outside, and use a sharp knife to remove the "eyes." Cut the pineapple in half lengthwise and remove the core by cutting a "V" down the center of each half. Again, place the pineapple halves, cut side down, on a board and slice them straight across into 1/2-inch-thick slices. Fan the slices out and arrange them next to the melon on the platter.
Once the base is set, you can add any kind of fruit that's available. Have one thing that is taller than the rest, such as a large bunch of grapes or a decoratively cut papaya, to give the platter height.
Then add raspberries, strawberries, blueberries, and fresh figs in casual but organized groups. The platter can look like a bowl of M&M's if there are too many colors scattered with no order. Visually, your eye needs to have a focal point and to be able to see each type of fruit.
After all the fruit is arranged, add flat green leaves around the outside of the fruit, to set off the colors. Use lemon and galax leaves from your florist, or fig leaves and grape leaves from your garden. Make sure they are pesticide-free and well washed.
Any kind of fruit will work well on this platter. For special occasions, add persimmons, kiwi, passion fruit, Queen Anne cherries, fresh apricots, and mangos. Choose whatever is colorful and seasonal.
Serves 10-12.
Information
Category

Other, Breakfast/Brunch

Cuisine

North American