 Besides serving savory nibbles at a champagne cocktail engagement party, offer guests a couple of sweet treats too. Fill bowls with chocolate candies and make one delicious dessert for guests to enjoy.
Cupcakes are classic and quintessential. They look pretty, can be prepared in advance, and are universally loved. This recipe features raspberry filled angel food cupcakes with a simple powdered sugar glaze.
For more fabulous wedding ideas, check out IDoSugar. And to see the recipe,
.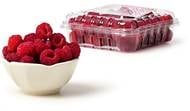 Angel Food Cupcakes with Raspberry Swirl
From Food and Wine magazine
Ingredients
Filling
3 cups raspberries (3/4 pound)
1/4 cup plus 2 tablespoons granulated sugar
4 teaspoons cornstarch dissolved in 4 teaspoons of water
Cupcakes:
1 cup cake flour
1/2 cup confectioners' sugar
10 large egg whites (1 1/4 cups), at room temperature
1/2 teaspoon salt
1 plump vanilla bean, split, seeds scraped
1 teaspoon cream of tartar
3/4 cup granulated sugar
Glaze:
1 1/2 cups confectioners' sugar
1 1/2 tablespoons butter, melted
1 1/2 tablespoons water
Pinch of salt
Directions
Make the filling: in a medium saucepan, combine 2 1/2 cups of the raspberries with the granulated sugar and cook over moderately high heat, crushing the berries, until very soft and broken down, about 5 minutes.
Strain the raspberry puree into a small bowl and discard the seeds.
Return the puree to the saucepan. Add the remaining 1/2 cup of raspberries and the dissolved cornstarch and bring to a boil. Cook, gently crushing the berries, until the filling is glossy and thickened, about 3 minutes. Let cool, then refrigerate until firm, about 1 hour.
Meanwhile make the cupcakes: preheat the oven to 325°. Set 18 foil muffin cups on a rimmed baking sheet.
In a small bowl, combine the cake flour with the confectioners' sugar.
In a large bowl, combine the egg whites with the salt, vanilla seeds and cream of tartar and beat until soft peaks form. Gradually beat in the granulated sugar, 1 tablespoon at a time, until the whites are firm and glossy.
Sift the flour mixture over the egg whites in 2 additions, folding gently until incorporated.
Spoon the batter into the muffin cups. Bake for 13 to 15 minutes, shifting the pan from front to back, until the cupcakes are springy and golden. Transfer the cupcakes to a rack to cool.
Using a wooden skewer, poke a 1/4-inch-wide hole in the top of each of the cupcakes. Using a pastry bag fitted with a plain 1/4-inch tip, pipe about 1 tablespoon of the filling into each cupcake.
Make the glaze: In a small bowl, stir together all of the ingredients. Spoon a small bit of the glaze over the raspberry hole and let set, about 5 minutes.
Drizzle and spread the remaining glaze over the cupcakes and let set, about 10 minutes. Transfer the cupcakes to a platter and serve.
Makes 18 cupcakes.
Information
Category

Desserts, Cupcakes

Cuisine

North American