Come Party With Me: Engagement Party — Menu Wedding Season kicked off today and to get things started I'm planning an engagement party. One of my best college friends was recently engaged and I'm throwing her and her sweetie a cocktail party to toast their engagement. My party will be savory nibbles and champagne, but if you prefer to host an after dinner dessert extravaganza that would be a great option as well.
Offer guests an assortment of easy, but elegant appetizers. Cut leek and olive tarts into small, square slices. Serve shrimp butter on triangular toast points. Create a beautiful antipasta platter with marinated asparagus, buffalo mozzarella, olives, bread, and more. To take a look at these recipes,
.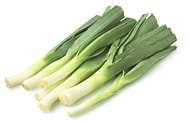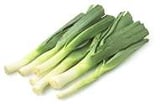 Ingredients
15 to 20 baby leeks or 3 large leeks, white and pale-green parts only
1 tablespoon unsalted butter
2 tablespoons extra-virgin olive oil
Coarse salt
1 teaspoon finely chopped fresh thyme
1 box (14 ounces) frozen puff pastry, such as Dufour, thawed
1 large egg beaten with 1 tablespoon water
1/4 cup freshly grated Parmesan cheese
Scant 1/4 cup Nicoise olives, pitted
4 ounces Pave d'Affinois or other soft-ripened cheese (such as Camembert or Perail), thinly sliced
Directions
If using baby leeks, halve lengthwise and trim to about 3 inches long. If using regular leeks, cut crosswise into 3-inch pieces; halve each piece lengthwise, then cut into 3/8-inch-thick strips (about 5 cups). Rinse well, and drain; set aside.
Melt butter with oil in a medium saute pan over medium heat. Add leeks and 1/4 teaspoon salt; cook, stirring occasionally, 5 minutes.
Reduce heat to medium-low; cover, and cook, stirring occasionally, until leeks are tender but not browned, about 15 minutes. Stir in thyme. Leeks can be refrigerated in an airtight container up to 1 day; bring to room temperature before assembling tart.
Cut or roll out pastry to a 6-by-14-inch rectangle; place on a parchment-lined baking sheet (reserve remaining pastry for another use). Score a 3/4-inch border. Brush with egg wash; sprinkle with Parmesan. Refrigerate 30 minutes.
Preheat oven to 375. Bake pastry until golden, 10 to 15 minutes.
Remove from oven, and press center area with a metal spatula. Arrange leeks end to end in rows within border of pastry. Scatter olives over leeks. Bake until crust is golden brown, about 10 minutes. If bottom is soft, bake 3 to 5 minutes more.
Remove tart from oven, and arrange soft cheese over top. Using an offset spatula, slide tart onto a wire rack; let cool slightly. Cut into pieces; serve warm or at room temperature (tart can stand at room temperature up to 1 hour).
Serves 4.
Information
Category

Appetizers, Puff Pastry

Cuisine

North American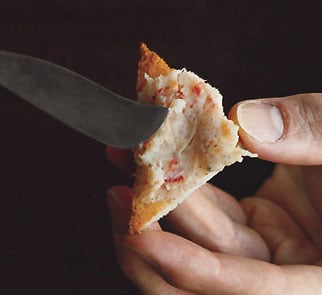 Shrimp Butter Toasts
From Gourmet magazine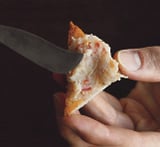 Ingredients
For shrimp butter
1 1/2 sticks (3/4 cup) unsalted butter, softened
1 lb medium shrimp in shell (31 to 35 per lb), peeled and deveined
1 teaspoon salt
1/2 teaspoon black pepper
1/4 cup minced onion
2 1/2 teaspoons fresh lemon juice
1/8 teaspoon cayenne
For toast points
10 slices firm white sandwich bread, crusts discarded and each slice cut to form 4 triangles
3 tablespoons unsalted butter, melted
whole cooked shrimp, optional for garnish
Directions
Make shrimp butter: heat 2 tablespoons butter in a 10-inch heavy skillet over moderately high heat until foam subsides, then sauté shrimp with salt and black pepper, stirring, until just cooked through, 1 1/2 to 2 minutes. Transfer shrimp with a slotted spoon to a food processor, reserving skillet (do not clean).
Cook onion in 1 tablespoon butter in skillet over moderately low heat, stirring occasionally, until softened, 2 to 3 minutes. Scrape onions into processor and cool mixture to room temperature, about 15 minutes.
Add lemon juice, cayenne, and remaining 9 tablespoons butter and pulse until shrimp are finely chopped. Pack shrimp butter into a 2-cup ramekin or serving bowl and chill, its surface covered with plastic wrap, at least 6 hours (to allow flavors to develop). Bring to room temperature 45 minutes before serving.
Make toast points: put oven rack in upper third of oven and preheat oven to 400°F.
Brush 1 side of bread triangles lightly with melted butter and toast, buttered sides up, in a large shallow baking pan until golden around edges, 6 to 8 minutes. Transfer to a rack to cool. Serve toast points with shrimp butter.
Makes 10.
Make Ahead: Shrimp butter can be chilled up to 2 days. Toast points can be made 1 day ahead and kept in an airtight container.
Information
Category

Seafood, Appetizers

Cuisine

North American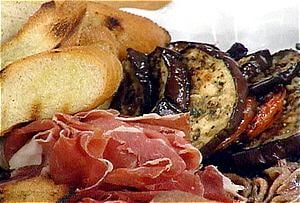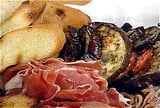 Ingredients
1/2 pound asparagus, grilled and marinated in olive oil, lemon juice, garlic and thyme
1/2 pound buffalo mozzarella
1/2 cup picholine olives
1/2 pound proscuitto
1/2 cup Gaeta olives
1 loaf Italian bread
1/4 pound Parmigiano-Reggiano cheese
1/2 pound grilled eggplant, sliced 1/4-inch thick and drizzled with olive oil
8 white anchovies
2 large portobello mushrooms grilled and marinated in olive oil, balsamic vinegar, garlic and basil
1 head roasted garlic
Toasted French bread slices
Directions
Arrange all ingredients on a large platter and serve at room temperature.
Serves 16.
Information
Category

Appetizers, Breads/Crackers

Cuisine

Mediterranean/Middle Eastern