Come Party With Me: Engagement Party — Menu Two weeks ago, I was starting to panic. Wedding season was nearly upon us and I had no bride and groom. Luckily I got a call from one of my oldest friends announcing her engagement! Giddy and excited, Ronda agreed to be my featured bride. Never one to procrastinate, Ronda and her fiance, James, are ready to celebrate with an informal engagement party. They're enthusiastic dancers, so the party will revolve around a salsa dance class. Everyone will be invited to join; after the class we'll toast the couple and enjoy a buffet of spicy Latin food. The menu will be a mix of homemade and store-bought items.
Bowls of purchased guacamole and a variety of salsas are perfect for dipping when paired with crunchy tortilla chips. Beef empanadas are filling and can be mass produced in advance. Plantain chips with chicken and mojito mango salsa are festive and delicious. A Mexican seafood cocktail packed with crab and shrimp finishes up the menu. For these recipes,
.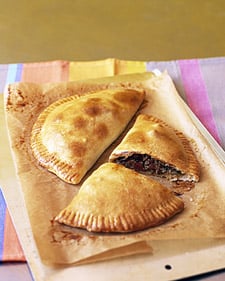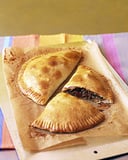 Ingredients
For the filling:
2 pounds ground pork or beef
2 medium onions, finely diced
2 jalapeno chiles, minced (ribs and seeds removed for less heat, if desired)
1/2 teaspoon chili powder
2 cans (14.5 ounces each) tomatoes, diced
Coarse salt and ground pepper
1 cup fresh cilantro, chopped
For the dough
4 cups all-purpose flour, plus more for dusting
2 teaspoons baking powder
2 teaspoons salt
1/2 cup (1 stick) cold butter, cut into small pieces
1 cup cold water
1 large egg, lightly beaten with 1 tablespoon water (do not beat until ready to bake)
Directions
Make the filling: In a 12-inch skillet over medium-high, cook meat until no longer pink, breaking it up into small pieces, 5 to 7 minutes.
Add onion and jalapenos; cook until soft, 5 minutes. Stir in chili powder and tomatoes. Cook over medium until mixture has thickened, 12 to 15 minutes. Season with salt and pepper. Fold in cilantro. Let cool.
Make the dough: In a bowl, combine flour, baking powder, and salt. Using your fingers, cut in butter until mixture is crumbly. Add just enough cold water so dough comes together.
Form empanadas: Turn out dough onto a lightly floured work surface, and divide in half. Knead each half 2 or 3 times to form smooth balls. Cut each ball into four equal pieces. Cover with plastic; let stand until slightly risen, 20 minutes. Shape into balls.
On floured surface, roll out each piece of dough into an 8-inch round. Divide filling evenly among rounds, spreading it over half of each and leaving a 1/2-inch border.
Brush border of bottom halves with water; fold top halves over filling to enclose completely. Press edges to seal with your fingertips, then crimp firmly with a fork. If desired, freeze on a baking sheet until firm, 2 hours. Wrap tightly in plastic; freeze in plastic bags.
To bake fresh or frozen empanadas, preheat oven to 400 degrees. Place on parchment-lined baking sheets. Brush tops with egg wash, avoiding crimped edges. Bake until golden brown, rotating sheets halfway through, 30 to 40 minutes.
Serves 8.
Information
Category

Meats, Appetizers

Cuisine

South American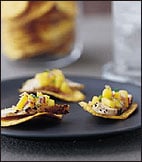 Plantain Chips With Chicken and Mojito Mango Salsa
From Food and Wine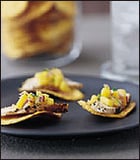 Ingredients
1 tablespoon vegetable oil
2 skinless, boneless chicken breast halves (about 6 ounces each)
Salt and freshly ground pepper
1 large ripe mango, finely diced
1/4 cup minced red onion
2 tablespoons Telluride Mojito, without club soda (recipe below)
2 teaspoons minced jalapeño
1 teaspoon chopped fresh mint
1 teaspoon fresh lime juice
4 dozen large plantain chips
Directions
In a medium skillet, heat the oil until shimmering.
Season the chicken breasts with salt and pepper and cook over moderately high heat until browned on the bottom, about 4 minutes. Turn the chicken and cook over moderate heat until browned on the second side and cooked through, about 6 minutes longer. Transfer to a plate to cool completely.
Meanwhile, in a medium bowl, combine the mango with the onion, Telluride Mojito, jalapeño, mint and lime juice. Season with salt and pepper.
Arrange the plantain chips on a large tray. Halve the chicken breasts lengthwise, then thinly slice crosswise. Put a piece of chicken on each plantain chip, spoon the salsa on top and serve.
Makes 4 dozen appetizers.
16 small fresh mint sprigs, plus 4 more for garnish
1/4 cup plus 2 tablespoons superfine sugar
1/2 cup fresh lime juice
3/4 cup white or gold rum
8 dashes bitters
2 cups club soda
In a bowl, using a wooden spoon, crush the mint with the sugar until the mint is coarsely chopped and the sugar is pale green. Add the lime juice, rum and bitters and stir to dissolve the sugar.
Strain the mixture through a coarse strainer into a small pitcher. Pour into tall glasses over ice and top each drink with 1/2 cup of the club soda. Garnish with mint sprigs and serve.
Makes 4 drinks.
Information
Category

Appetizers, Finger Foods

Cuisine

South American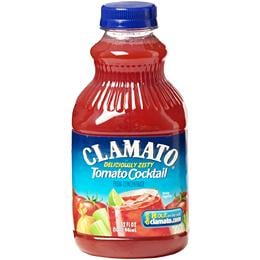 Mexican Seafood Cocktail
From Gourmet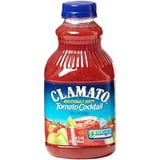 Ingredients
1 1/2 cups chilled Clamato juice, or 1 cup tomato juice and 1/2 cup bottled clam juice
1/4 cup ketchup
1/4 cup fresh lime juice
1 teaspoon hot sauce such as Tabasco
1 teaspoon salt, or to taste
1/2 cup finely chopped white onion
1/4 cup chopped fresh cilantro
1 firm-ripe California avocado, peeled, pitted, and cut into small chunks
1/2 lb fresh lump crabmeat (1 cup), picked over
1/4 lb cooked baby shrimp
oyster crackers or saltines, optional for serving
Directions
Stir together Clamato juice, ketchup, lime juice, hot sauce, salt, onion, and cilantro in a large bowl, then gently stir in avocado, crabmeat, and shrimp. Spoon into 6- or 8-ounce glasses or cups.
Makes 4 to 6 first-course or light main-course servings.
Information
Category

Side Dishes, Soups

Cuisine

Mexican