Come Party With Me: Farmers Market Feast — Menu This week, why not invite some friends over for dinner on the patio? Serve an easy vegetarian meal inspired by the fresh produce found at the local farmers market. The menu starts with goat cheese topped with an olive-thyme mixture.
A savory tart layered with tomatoes, roasted garlic, and fontina cheese is a simple but stunning centerpiece. Instead of serving a boring salad, pair the tart with an equally exciting side: warm Summer vegetable salad with brown butter dressing. Sound scrumptious? Get the recipes when you
.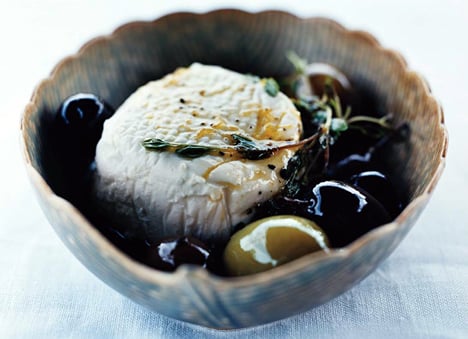 Goat Cheese With Olives, Lemon, and Thyme
From Gourmet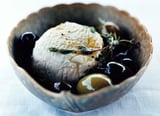 Ingredients
1/2 cup assorted olives
3 fresh thyme sprigs
3 tablespoons extra-virgin olive oil
1/2 teaspoon grated lemon zest
1 (4- to 5-ounce) fresh goat-cheese medallion or 2 (2-ounces) goat-cheese buttons
Flatbread, crackers, or crostini for serving
Directions
Heat olives, thyme, oil, zest, and 1/4 teaspoon pepper in a small skillet or saucepan over low heat until fragrant (do not simmer). Cool to room temperature.
Serve olive mixture over goat cheese.
Serves 4.
Information
Category

Cheesecake, Appetizers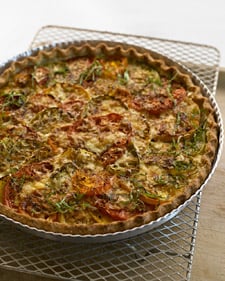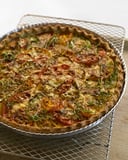 Ingredients
1 head garlic
3 tablespoons olive oil
All-purpose flour, for dusting
1/2 disk of pie dough, homemade or store bought
2 ounces Italian fontina cheese, grated (about 1/2 cup)
1 1/2 pounds firm but ripe tomatoes (4 medium), cored and sliced 1/4 inch thick
Coarse salt and freshly ground pepper
Directions
Preheat oven to 350 degrees. Place garlic on a piece of aluminum foil. Drizzle with 1 tablespoon oil. Wrap to enclose garlic in foil, and place on a small baking sheet.
Bake until soft and golden brown and the tip of a knife easily pierces the flesh, about 45 minutes. Remove from oven; set aside.
Raise oven temperature to 450 degrees. When garlic is cool enough to handle, using either your hands or the dull end of a large knife, squeeze the cloves out of their skins and into a small bowl; mash with a fork, and set aside. Discard the papery skins.
On a lightly floured surface, roll out dough to a 1/8-inch-thick circle, about 12 inches in diameter. With a dry pastry brush, brush off the excess flour; roll the dough around the rolling pin, and lift it over a 10-inch tart pan with a removable bottom. Line the pan with the dough, pressing it into the corners. Trim the dough so that it is flush with the edges; transfer to the refrigerator to chill, about 30 minutes.
Spread roasted garlic evenly on the chilled crust. Sprinkle with half of the cheese. Arrange the tomatoes on top of the cheese, in an overlapping circular pattern. Season with salt and pepper. Sprinkle with remaining cheese, and drizzle with remaining 2 tablespoons oil. Transfer to oven.
Reduce temperature to 400 degrees. and bake until crust is golden and tomatoes are soft but still retain their shape, 45 to 55 minutes. Transfer to wire rack to cool for 20 minutes, and serve warm.
Serves 8.
Information
Category

Other, Main Dishes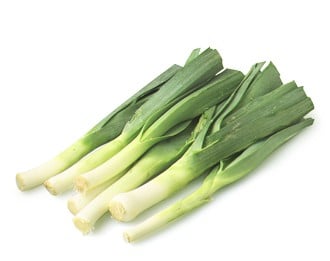 Warm Summer Vegetable Salad With Brown Butter Dressing
From Food and Wine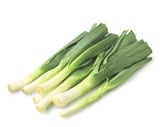 Ingredients
2 small leeks or 16 baby leeks, white and tender green parts only, halved and washed
1/2 pound green beans
4 cups baby arugula (2 ounces)
2 1/2 tablespoons unsalted butter
1/4 cup Moscatel, white balsamic or late-harvest wine vinegar
1/4 cup thinly sliced red onion
16 small radishes, quartered
Salt and freshly ground pepper
1/4 cup small or torn mint leaves
Directions
Bring a medium saucepan of salted water to a boil. Add the leeks, cover and simmer over low heat until tender, about 10 minutes (3 minutes for baby leeks). Using a slotted spoon, transfer the leeks to paper towels to drain. Cut the leeks lengthwise into long, thin strands.
Add the beans to the saucepan. Cook until just tender, 4 minutes. Drain and pat dry.
Put the arugula in a large bowl. In a large skillet, heat the butter and cook over moderately high heat until richly browned, about 2 minutes. Add the leeks, green beans, vinegar, red onion and radishes and toss until warmed. Spoon the vegetables and butter dressing over the arugula, toss well and season with salt and pepper. Arrange the salad on 4 plates, garnish with the mint leaves and serve.
Serves 4.
Information
Category

Vegetables, Salads