 Father's Day is this Sunday and naturally I'm planning a manly meal that celebrates my dad. He enjoys simple classic American cuisine, so this menu features his backyard favorites. We'll start with oysters on the half shell with a shrimp-butter-Parmesan topping. The recipe broils them, but for an added smoky depth, we'll cook the oysters on the grill. Dad and I will bond over the preparation of hickory-smoked beef ribs. First the meat is coated in an easy spice rub, then after it's slow-cooked on the grill, it's topped with a homemade barbecue sauce.
Grilled corn with chili and cilantro plus new potatoes stuffed with sour cream and blue cheese round out the meal. For these recipes that will please any man's palate,
.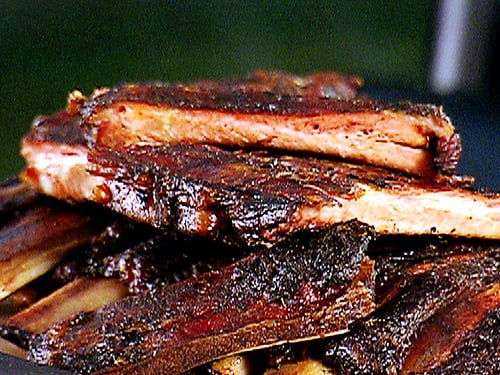 Ingredients
1 1/2 cups paprika
3/4 cup sugar
3 3/4 tablespoons onion powder
2 (about 4 pounds each) slabs beef spareribs
2 (about 3 pounds each) slabs pork spareribs
BBQ Sauce, recipe follows
Directions
Make the rub: Place the paprika, sugar, and onion powder in a bowl and stir until combined. Keep in an airtight container for up to 6 months.
Make the ribs: Rinse and dry ribs. Place on a clean cutting board and pull off the membrane, the thin fatty skin that lines the underside of the ribs. Trim the ribs of excess fat and meat.
Liberally season both sides of the ribs with 1/4 to 1/2 cup of the rub. Wrap ribs and refrigerate for at least 8 hours so flavors can permeate.
Preheat grill to 250 degrees F. using hickory and charcoal. Use indirect heat and cook with the cover down. Place ribs, meatier side down, on the grill away from the coals. Cook beef 2 hours, adding more coals as needed.
Turn and cook for 45 minutes more, or until the ribs "bend" and the meat easily separates from the bone using a fork. Cook the pork ribs 3 hours. Turn and cook another hour, or until ribs bend. Remove from grill.
Coat ribs with BBQ sauce, cut and serve.
Serves 4-6.
BBQ Sauce:
2 cups ketchup
1 cup water
1/2 cup apple cider vinegar
5 tablespoons light brown sugar
5 tablespoons sugar
1 tablespoon lemon juice
1 tablespoon Worcestershire sauce
1/2 tablespoon fresh ground black pepper
1/2 tablespoon onion powder
1/2 tablespoon ground mustard
In a medium saucepan, combine all ingredients. Bring mixture to a boil, reduce heat to simmer. Cooked uncovered, stirring frequently, for 1 hour 15 minutes.
Makes 3 1/2 cups.
Information
Category

Main Dishes, BBQ

Cuisine

North American