 Every year on the Fourth of July, I like to make a red, white, and blue dessert. It's my personal salute to America. While a flag cake is festive, this year I'll wow guests with a red, white, and blueberry cheesecake tart.
The easy, crisp crust is a mixture of ground graham crackers and almonds. The filling is smooth, creamy, and classic. The red topping is a juicy syrup made with red plums. Garnished with plump, burst-in-your-mouth blueberries, this is one star-spangled dessert.
To learn how it's made,
.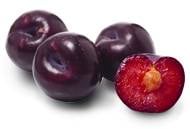 Red, White, and Blueberry Cheesecake Tart
From Everyday Food magazine
Ingredients
6 graham crackers (2 1/2 by 5 inches each)
1/3 cup whole almonds
1 1/4 cups sugar
4 tablespoons unsalted butter, melted
2 bars (8 ounces each) reduced-fat cream cheese, room temperature
1/2 cup reduced-fat sour cream
1 large egg
1/2 teaspoon pure vanilla extract
Pinch salt
4 red plums (1 to 1 1/2 pounds total), halved, pitted, and cut into 1/2-inch dice
1 tablespoon fresh lemon juice
1 pint (2 cups) blueberries
Directions
Make crust: preheat oven to 350°.
In a food processor, grind graham crackers, almonds, and 1/4 cup sugar until finely ground; add butter, and process until moistened. Transfer to a 9-inch removable-bottom tart pan. Using the base of a dry measuring cup, press mixture firmly into the bottom and up sides of pan. Freeze at least 15 minutes.
Make filling and bake: carefully wipe processor blade and bowl clean. Place cream cheese, sour cream, 1/2 cup sugar, egg, vanilla, and salt in food processor; blend just until smooth.
Place tart pan on a rimmed baking sheet; fill with cheesecake mixture.
Bake until filling is just set, 30 to 35 minutes. Transfer tart pan to a wire rack to cool completely.
Meanwhile, make topping: in a medium saucepan, combine plums, 1/2 cup sugar, and lemon juice. Cook at a rapid simmer over medium-high heat, stirring frequently, until mixture is jamlike and moves around pan in a single mass when stirred, 15 to 25 minutes (time will depend on ripeness of fruit). Reserve 1 tablespoon cooking liquid (no solids) for blueberries; cool remaining plum mixture.
Assemble tart: leaving a 1-inch border, spread cooled plum mixture over tart. Reheat reserved plum liquid (on stove or in microwave) until liquefied. In a medium bowl, combine with blueberries, and scatter on top of plum mixture.
Chill until ready to serve, at least 2 hours and up to 1 day. Remove from pan before serving.
Serves 8.
Information
Category

Desserts, Cheesecake

Cuisine

North American