Come Party With Me: Fourth of July — Drinks When searching for fun red, white, and blue cocktails to serve at a Fourth of July barbecue, I was disappointed by the uninspiring results: most were colored blue with the artificial tasting blue Curacao. However, with a little creativity one can offer guests delicious, patriotic-colored cocktails in the form of a mojito bar. The classic mojito is white, a raspberry mojito is red, and a blueberry mojito is blue. Set out a recipe, all the ingredients, several muddlers, and glasses and invite guests to make their own cocktails. Depending on your preferences, also offer guests a selection of beer, wine, waters, and lemonade. For the red and blue mojito recipes,
.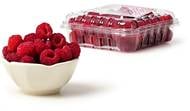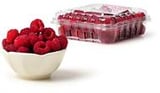 Ingredients
Handful fresh mint leaves
3 whole fresh raspberries
Juice of 1 lime
2 teaspoons sugar
Ice
1 1/2 ounces spiced rum
Splash club soda
Directions
In a highball glass, muddle the mint, raspberries, lime juice, and sugar.
Fill a cocktail shaker with ice; add the rum and shake for 15 seconds. Pour into the glass and top with the club soda.
Makes 1 drink.
Information
Category

Drinks, Cocktails

Cuisine

Other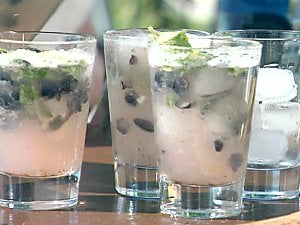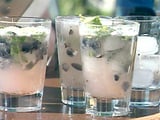 Ingredients
For the Ginger simple syrup:
1/4 cup grated fresh ginger
1 cup granulated sugar
1 cup cold water
For the Mojito:
1 cup fresh blueberries
1 lime, cut into wedges
20 to 24 fresh mint leaves
4 ounces ginger simple syrup
4 ounces vodka
5 ounces club soda
Ice cubes
Blueberries, for garnish
Mint leaves, for garnish
Directions
For the Ginger simple syrup: peel and grate the ginger and add it, together with the sugar and cold water, to a saucepan.
Bring it to the boil and stir until the sugar dissolves. Cover and let steep for 15 minutes. Strain and cool in the refrigerator when done.
For the Mojito: add the blueberries, lime wedges and fresh mint leaves to the glass (or pitcher). Muddle with a wooden spoon so the blueberries are broken and the mint and lime release their juices and flavor. If assembling pitchers you can cover them at this stage and leave in the refrigerator until ready to serve.
When ready to serve, add the simple syrup, vodka and top off with club soda. Give it a quick stir and then pour into glasses with ice cubes. Garnish with a handful of fresh blueberries and a sprig of mint.
Serves 2.
Information
Category

Drinks, Cocktails

Cuisine

Other