Come Party With Me: Graduation — Menu Since my cousin's graduation party is an informal, open house, we'll be serving crowd-pleasing, comforting dishes. The party should be all about the graduate, so choose an easy, Italian menu that will appeal to an 8th grader and her friends.
Pizza squares make an excellent appetizer because no forks are necessary. For the main course, set up a pasta bar: make a huge batch of pasta and invite guests to choose from three — pesto, tomato, or gorgonzola — pasta sauces. The classic Caesar salad side gets a contemporary update when made with spinach instead of romaine lettuce.
To look at these delicious recipes,
.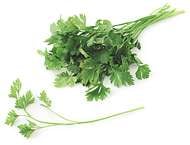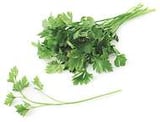 Ingredients
1 10-ounce package refrigerated pizza dough
3/4 cup shredded mozzarella cheese (3 ounces)
3/4 cup shredded Gouda or fontina cheese (3 ounces)
1/3 cup crumbled blue cheese
Freshly ground pepper
2 to 4 tablespoons snipped fresh herbs
Directions
Heat oven to 425 degrees F.
Unroll the pizza dough on a lightly floured surface. Roll into a 13-1/2x9-inch rectangle. Cut dough into six 4-1/2-inch squares.
Place squares about 1 inch apart on a lightly greased cookie sheet.
If desired, press the edges of each piece with a fork. Bake for 4 to 5 minutes or until lightly browned.
Sprinkle each square with mozzarella, Gouda, or fontina cheese, blue cheese, and pepper.
Bake 5 to 6 minutes more or until cheeses melt. Remove from oven and sprinkle with herbs.
Serves 12.
Information
Category

Appetizers, Finger Foods

Cuisine

Italian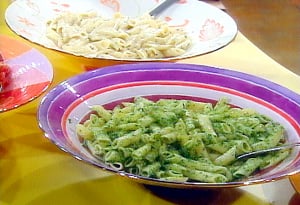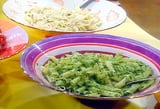 Ingredients
2 pounds penne rigate pasta
Parsley Pesto:
2 cups Italian flat-leaf parsley
1 (3-ounce) jar or 1/4 cup pignoli nuts
1 clove garlic, cracked away from skin
1/2 cup extra-virgin olive oil, divided
1 teaspoon coarse black pepper
1 cup grated Parmigiano-Reggiano
Tomato-Basil Sauce:
2 tablespoons extra-virgin olive oil
2 cloves garlic, chopped
1 medium onion, chopped
1 (28-ounce) can crushed tomatoes,
1 (14-ounce) can diced tomatoes, drained
Salt and pepper
20 leaves fresh basil, torn or shredded
Gorgonzola Cheese Sauce:
2 tablespoons butter
2 tablespoons all-purpose flour
1/2 cup white wine
1 cup chicken stock
1/2 cup cream
2 tablespoons chopped sage leaves
3/4 pound gorgonzola cheese, cut into pieces
Salt and freshly ground black pepper
Directions
Put large pot of water on to boil for penne. Salt boiling water and cook penne to al dente.
In food processor, combine parsley, pignoli, garlic. Process and stream in about 1/4 cup olive oil. Remove parsley paste to a large serving bowl. Stir in pepper and grated cheese. Add remaining olive oil, stir to combine.
Heat a medium pot on stove top over medium low to medium heat. Add extra-virgin olive oil, garlic and onion for the tomato basil sauce.
Let onions cook with garlic slowly over 15 minutes, be careful not to brown onions -- just keep an eye on them and stir the onions frequently.
After 15 minutes, stir in tomatoes and raise heat to warm tomatoes. Season with salt and pepper. Stir in basil and wilt it into the sauce. Remove sauce from heat. When ready to serve, place sauce in the bottom of a large serving bowl to toss with hot pasta.
In a second medium pot over medium heat, melt butter. Add flour and cook 1 minute. Whisk in wine, reduce 15 to 20 seconds.
Whisk in stock, then cream. Add sage, then pieces of cheese. Stir until cheese melts into sauce. Simmer over low heat until ready to serve. Season with salt and pepper, to taste.
Place 1/3 drained pasta in bowl with pesto, 1/3 with tomato basil sauce and 1/3 in another serving dish. Combine pasta with pesto, then coat and toss the second bowl of pasta with red sauce, to the last bowl, pour the gorgonzola sauce down over the pasta and toss.
Serve the three pastas family style or buffet style, immediately.
Serves 6-8.
Information
Category

Pasta, Main Dishes

Cuisine

Italian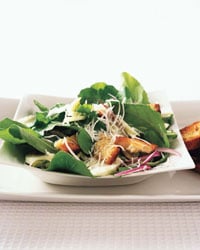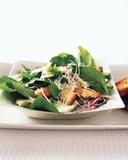 Ingredients
1 large egg
3 anchovy fillets, rinsed
2 tablespoons fresh lemon juice
2 garlic cloves, 1 minced
1 tablespoon Dijon mustard
1/2 cup plus 1 tablespoon extra-virgin olive oil
10 ounces Parmesan cheese, 3 ounces finely grated and 7 ounces coarsely shredded
Salt and freshly ground pepper
1/2 baguette, cut into 1/2-inch cubes (4 cups)
1 teaspoon paprika
1/2 pound baby spinach (8 cups)
Directions
Preheat the oven to 350°.
Bring a small saucepan of water to a boil. Add the egg and cook for 5 minutes, until soft-boiled. Remove the egg with a slotted spoon and crack it into a blender, using a small spoon to scoop out all of the egg yolk and white.
Add the anchovies, lemon juice, whole garlic clove and mustard and blend until smooth.
With the machine on, add 1/4 cup plus 2 tablespoons of the olive oil in a thin stream. Add two thirds of the finely grated Parmesan and season with salt and pepper.
In a large bowl, toss the baguette cubes with the remaining 3 tablespoons of olive oil. Add the remaining finely grated Parmesan along with the paprika and minced garlic and toss to coat.
Spread the bread cubes on a rimmed baking sheet and toast for about 8 minutes, until crisp and golden. Let cool slightly.
In the same large bowl, toss the spinach with the dressing, croutons and the shredded Parmesan; season with salt and pepper. Transfer the salad to plates and serve.
Serves 6.
Information
Category

Greens , Salads

Cuisine

North American