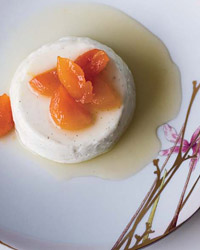 While most people automatically think of baklava when they hear the words "Greek" and "dessert," I want to surprise my girlfriends with something unexpected. The Greek dinner takes place after a day of wine tasting, so a make-ahead sweet treat, like Greek yogurt panna cotta, is ideal. A couple of years ago at our annual girls' getaway, I passed out before finishing cooking dessert, and this is a mistake I don't want to repeat this weekend! Traditional panna cotta is made with cream, but this recipe incorporates thick yogurt into the mixture. The resulting dish, which is topped with honey-glazed apricots, is smooth and slightly sweet. To check out the recipe,
.
Greek Yogurt Panna Cotta With Honey-Glazed Apricots
From Food & Wine
Ingredients
1 envelope unflavored gelatin (2 1/4 teaspoons)
2 tablespoons cold water
1 cup heavy cream
1/3 cup sugar
1 vanilla bean, split, seeds scraped
One 17.6-ounce tub of Greek yogurt, such as Fage Total brand (2 cups)
1 cup dried apricots
1 cup semi-dry white wine, such as Vouvray
1/4 cup honey
Directions
In a small bowl, sprinkle the gelatin over the cold water; let stand until softened, 5 minutes.
In a small saucepan, bring the cream, sugar and vanilla bean and seeds to a simmer. Off the heat, stir in the gelatin until melted. In a bowl, whisk the yogurt until smooth. Gradually whisk in the vanilla cream; remove the vanilla bean. Pour the mixture into six 1/2-cup ramekins and refrigerate until set, at least 3 hours.
Meanwhile, in a small saucepan, simmer the apricots in the white wine over moderately low heat until the apricots are plump and the wine has reduced by half, about 20 minutes. Stir in the honey and simmer the syrup until thickened, about 5 minutes; let cool.
Run a knife around the inside of each ramekin. Set a plate on each ramekin and invert each panna cotta onto a plate; you may have to tap and shake the ramekins to loosen the panna cottas. Slice the apricots and spoon them on top of the panna cottas. Drizzle with some of the honey syrup and serve.
Serves 6.
Information
Category

Other, Desserts

Cuisine

Greek