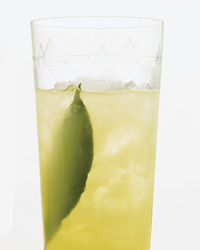 My Greek feast is taking place on Saturday after a day of wine tasting, but our Dionysus-themed girls weekend begins on Friday night. To kick start the event, I'll greet each girl with a cocktail when she arrives. My sister has purchased golden Greek laurels for everyone to wear in their hair, so my cocktail is inspired by this party gift. It's called a Lemony Laurel and is a sunny, refreshing concoction that combines a lemon and bay leaf syrup with citrus vodka and Galliano. It sounds like a heavenly beverage that would be delicious enough for a goddess to drink! Get the recipe I'll be using when you
.


Ingredients
Crushed ice
1 1/2 ounces citrus vodka
3/4 ounce Galliano
2 1/2 ounces Roasted-Lemon Syrup (recipe below)
1 fresh bay leaf (optional)
Directions
Fill a highball glass with crushed ice. Add the vodka, Galliano and Roasted-Lemon Syrup.
Using a swizzle stick or a bar spoon turned between both hands, swizzle for 8 seconds. Garnish with the bay leaf.
Makes 1 drink.


5 lemons
20 dried bay leaves
12 ounces Simple Syrup
Halve the lemons and remove the seeds. Make 2 slits along the membranes of each half and stuff a dried bay leaf into each slit. Set the lemons cut side up on a baking sheet and bake in a 250° oven for 2 hours.
Transfer the roasted lemons to a glass measuring cup and add the Simple Syrup. Cover and refrigerate overnight. Strain the syrup into an airtight container, squeezing the juice from each lemon, and refrigerate for up to 1 week.
Makes 16 ounces.
Information
Category

Drinks, Cocktails