Come Party With Me: Half Birthday Housewarming — Invite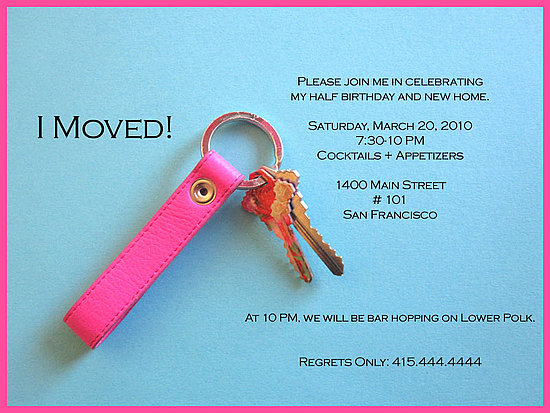 Tomorrow is my half birthday, and if you are a long-time YumSugar reader, you'll know that I always celebrate my half birthday! After consulting CasaSugar on when is the appropriate time to host a housewarming, I've decided to throw myself a half birthday housewarming party. I'll invite my friends over and serve up a delectable spread of appetizers and drinks. Before I can think about the menu, I've got to get the invites sent. To learn how I made the invite pictured here,
.
With a new house comes a new set of keys and keychain. I'm totally in love with the floral-printed key to my front door, so I thought this would make a fun backdrop to the invitation. I took a bunch of photos with different backgrounds.
Once I selected my favorite photo, I dragged the image into Photoshop. I added the following text:

I moved! Please join me in celebrating my half birthday and new home.

Saturday, March 20, 2010
7:30-10 PM
Cocktails + appetizers

1400 Main Street, #101
San Francisco

At 10 PM, we will be bar hopping on Lower Polk.

Regrets only: 415.444.4444
I put in a pink border and saved as a jpeg. All I have to do is attach as an email and send to all my friends. Invite? Done! Have you hosted a housewarming? Please share your tips with me below.