Come Party With Me: Halloween Dinner — Drinks Although there is no meat in the Halloween dinner menu, the meal is quite rich, so select a cocktail that is clean, crisp, and refreshing. The classic highball is perfect because guests can choose between gin or vodka. Eyeball ice cubes are a creative and festive way to make the drink more Halloweeny. If you don't like a highball, consider using the ice cubes in another concoction. When guests sit down to dinner pour a Halloween-themed wine. As always, be sure to have plenty of water, beer, and nonalcoholic alternatives on hand. To learn how to make the eyeball highball,
.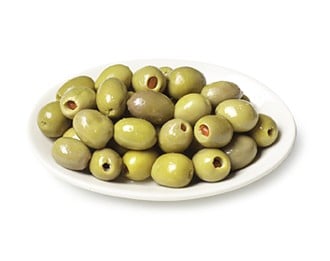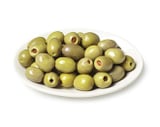 Ingredients
14 medium radishes
7 pimiento-stuffed olives, halved crosswise
16 ounces gin or vodka
1 ounce vermouth
Directions
Trim stem and root ends of radish. Use a paring knife to scrape red skin from radish, leaving just enough to give a veiny appearance. With a small melon baller, cut a hole in radish, about 1/2 inch in diameter.
Fit an olive half, cut-side facing out, into hole. Place radish in ice-cube tray. Repeat with remaining radishes. Fill tray with water; freeze.
Mix vodka or gin with vermouth; stir with ice. Divide eyeball ice cubes among four glasses. Strain martini; pour into glasses, and serve.
Makes 4 drinks.
Information
Category

Drinks, Cocktails