 When hosting a viewing party of any sort, there are two options for planning a menu. You can serve foods inspired by the show or popular dishes classic to the TV dinner. For my Heroes season premiere party, I've decided to do the latter and offer friends a tasty re-interpretation of the 1950s TV dinner. Guests will be greeted with shot glasses of spicy tomato soup. Mini grilled cheese sandwiches are an excellent companion. Beef, mashed potatoes, peas, and caramelized onions make up the main course that looks scrumptious served on a TV dinner tray. To get these comforting, delicious, timeless recipes,
.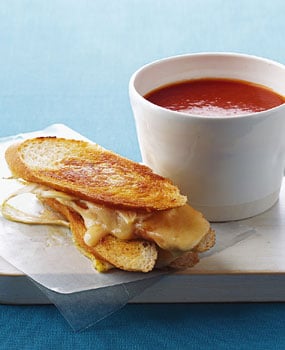 Spicy Tomato Soup
From Gourmet magazine
Ingredients
2 (28- to 32-oz) cans whole tomatoes in juice (preferably organic)
1 large onion, coarsely chopped (2 1/4 cups)
2 teaspoons finely chopped garlic
1 teaspoon finely chopped fresh jalapeño chile including seeds
2 teaspoons finely chopped peeled fresh ginger
3 tablespoons olive oil
1/2 teaspoon ground cumin
2 1/4 cups reduced-sodium chicken broth (18 fl oz)
1 tablespoon sugar, or to taste
2 teaspoons salt, or to taste
Directions
Drain 1 can tomatoes, discarding juice, then purée with remaining can tomatoes (including juice) in a blender.
Cook onion, garlic, chile, and ginger in oil in a 4- to 5-quart heavy nonreactive pot over moderate heat, stirring frequently, until onion is softened, about 8 minutes.
Add cumin and cook, stirring, 1 minute. Stir in puréed tomatoes, broth, 1 tablespoon sugar, and 2 teaspoons salt and simmer, uncovered, stirring occasionally, 20 minutes.
Working in 3 or 4 batches, blend soup in blender until smooth (use caution when blending hot liquids). Transfer soup as blended to a sieve set over a large bowl and force through sieve, discarding seeds.
Stir in sugar and salt to taste. Reheat in cleaned saucepan if necessary.
Serves 4.
Information
Category

Soups/Stews, Bisque

Cuisine

North American
Ingredients
1 pound fresh buffalo mozzarella, cut into 4 equal pieces about 3-inches by 4-inches
8 1/2-inch thick firm white sandwich bread
2 large eggs
1/2 cup heavy cream
1 teaspoon fresh thyme leaves
1 teaspoon coarse salt
A grating of nutmeg
1/4 cup extra-virgin olive oil
2 tablespoons unsalted butter
Directions
Place the mozzarella on 4 slices of the bread. Cover with the remaining slices to form sandwiches. Trim the crusts off to make perfect 4-inch squares.
In a wide shallow bowl, whisk the eggs. Add the cream, thyme leaves, salt, and nutmeg. Whisk until well blended.
In a 10 to 12-inch nonstick saute pan, heat 2 tablespoons of olive oil over medium-high heat until smoking. Add 1 tablespoon of the butter and cook until the sizzling subsides.
Dip 2 of the sandwiches into the egg mixture, turning to coat, place in the pan, and cook until golden brown on the first side, about 2 minutes.
Flip over and brown on the other side. Transfer the sandwiches to individual plates and repeat the process with the remaining 2 tablespoons olive oil, 1 tablespoon butter, and 2 sandwiches. Cut in half, and serve immediately.
Makes 4 sandwiches or 16 triangles.
Information
Category

Main Dishes, Sandwiches

Cuisine

North American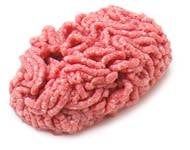 Ingredients
2 large baking potatoes (about 1 1/4 pounds total)—peeled, quartered lengthwise and sliced 1/2 inch thick
3/4 cup heavy cream
Salt and pepper
1 pound ground beef sirloin
1 tablespoon flour
2 tablespoons extra-virgin olive oil
2 onions, thinly sliced
1 cup beef broth
3 tablespoons steak sauce, such as A.1.
One 10-ounce box frozen petite peas
Directions
In a small saucepan, combine the potatoes and enough salted cold water to cover. Bring to a boil, then lower the heat and simmer until tender, about 15 minutes. Drain, return to the pot and mash with 6 tablespoons cream, 1 teaspoon salt and a pinch of pepper. Set aside.
Meanwhile, in a medium bowl, combine the ground sirloin with 1 1/2 teaspoons salt and 1/2 teaspoon pepper. Shape into 4 oval patties about 1/2 inch thick. Coat with the flour.
In a large, heavy skillet, heat the olive oil over medium heat. Add the ground sirloin patties and cook until browned, about 2 minutes on each side for medium-rare. Transfer to a plate and cover with foil to keep warm.
Add the onions to the skillet and cook over medium heat, stirring, until slightly softened, about 5 minutes. Pour in the beef broth, steak sauce and remaining 6 tablespoons cream and bring to a boil. Cook, stirring occasionally, until the sauce thickens, about 4 minutes.
Meanwhile, cook the peas according to package directions.
Return the meat patties to the skillet and let simmer in the sauce for about 4 minutes.
Arrange the patties on plates and spoon the sauce on top. Serve the mashed potatoes and peas alongside.
Serves 4.
Information
Category

Main Dishes, Beef

Cuisine

North American