Come Party With Me: Housewarming Party — Dessert When selecting a dessert recipe for a housewarming, choose a dish that can be eaten on the go without any utensils. Cookies and cupcakes are delicious, but empanadas keep up with the tapas-themed menu. These tasty, small pastries are filled with berries and goat cheese. If you don't have the time or expertise to make dough, simply use premade refrigerated pie crust.
To learn how they are made,
.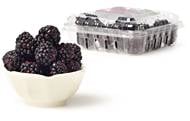 Blackberry and Strawberry Empanadas
From Tim Love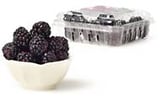 Ingredients
4 cups all-purpose flour
2 tablespoons sugar
1/2 teaspoons salt
4 teaspoons baking powder
1 cup vegetable shortening
1 cup chicken stock
1 cup blackberries
1 cup wild strawberries, roughly chopped
1/2 cup goat cheese
1/4 cup sugar
2 large eggs,
2 tablespoons water
Peanut oil, for frying
Directions
In a large mixing bowl, combine flour, sugar, salt and baking powder and mix well. Add shortening and break it up by hand until it resembles cornmeal.
Add chicken stock and knead until all is incorporated. Let it rest, covered, for at least 30 minutes in cooler.
Meanwhile, make the filling. Combine blackberries, strawberries, goat cheese and sugar and mix well.
When the dough has chilled, roll it out to 1/4-inch thickness on a lightly floured surface with a rolling pin.
Cut circles out of the dough with a 4-inch round cutter. Spoon a heaping tablespoon of filling into the center of each dough circle.
Beat the eggs and water together in a small bowl. Brush the egg wash all around the edges of the dough. Fold the dough over the filling to make the circles into half moons. Crimp the edges with the tines of a fork to seal the dough closed.
Heat a pan, filled half way up with peanut oil, to 350 degrees F.
Fry the empanadas until golden brown, about 6 to 8 minutes, turning them over occasionally with tongs.
Serves 4.
Information
Category

Desserts, Pastries

Cuisine

Spanish/Portuguese