Come Party With Me: Indian Dinner — Menu Watching the radiant Slumdog Millionaire cast at the Oscars and the clips from the lush film made me hungry for Indian culture — and Indian food. I've decided to round up an intimate group and host an informal Indian dinner. My girlfriend Emily is bringing the wonderful soundtrack from the film and I'm in charge of the menu.
With fewer people traveling due to the economy, this is a great way to experience an exotic culture in the comfort of your own kitchen. Cooking a meal is more affordable than purchasing a plane ticket, so consider brightening up a Winter's evening with this lively get-together. Jump-start the party with Padma Lakshmi's crispy turkey rolls with mint and date dipping sauce; they should be ready and waiting for guests to arrive.
Shrimp tikka with mango chutney is fragrant, flavorful, sweet, and spicy. For the main course, serve chicken with a fresh, tangy cilantro sauce, white rice, and green lentils with lemon slices and popped mustard seeds. To entice your tastebuds with these dishes,
.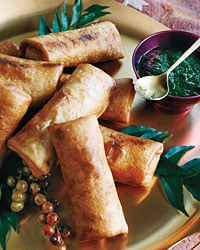 Crispy Turkey Kathi Rolls With Mint-and-Date Dipping Sauce
From Food and Wine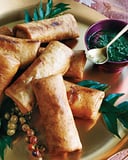 Ingredients
1 1/2 tablespoons canola oil, plus more for frying
1/2 cup finely chopped onion
1 1/2 teaspoons minced, peeled fresh ginger
1/2 teaspoon minced garlic
1/2 teaspoon Madras curry powder
1/2 teaspoon amchoor*, optional
3/4 pound ground turkey
1 tablespoon soy sauce
2 tablespoons minced basil
1 tablespoon fresh lemon juice
Salt
Sixteen 6-inch flour tortillas, warmed
Mint-and-Date Dipping Sauce, recipe below
Directions
In a large skillet, heat the 1 1/2 tablespoons of canola oil. Add the onion, ginger and garlic and cook over moderate heat, stirring a few times, until the onion is translucent, about 5 minutes. Add the curry powder and amchoor and cook, stirring, until the spices become fragrant, about 1 minute.
Add the turkey and soy sauce and cook, breaking up the meat, until no trace of pink remains in the turkey, about 10 minutes. Stir in the basil and lemon juice and season with salt.
In a medium saucepan, heat 2 inches of canola oil to 350° over moderately high heat.
Lay a tortilla on a work surface and spoon 2 tablespoons of the turkey filling across the lower third of it. Roll the tortilla around the filling, folding in the sides as you roll. Secure the rolls with 2 toothpicks. Repeat to form the remaining rolls.
Fry the rolls 3 or 4 at a time, turning once, until browned and crisp, about 4 minutes per batch. Drain on paper towels. Remove the toothpicks and serve the rolls with the Mint-and-Date Dipping Sauce.
Makes 16 rolls.
Make Ahead: the fried rolls can be kept at room temperature for up to 2 hours. Reheat in the oven before serving.
*Amchoor, dried mango powder, adds a distinctive tart flavor to foods. It's available at Indian markets and from kalustyans.com.
2 cups mint leaves
3 pitted Medjool dates, finely chopped
1 serrano chile, seeded and chopped
3 tablespoons fresh-squeezed lemon juice
2 tablespoons water
Salt
In a blender, combine the mint leaves, dates, serrano chile, lemon juice and water and puree until smooth. Transfer the dipping sauce to a bowl and season with salt. Serve at room temperature. The dipping sauce can be prepared up to 4 hours ahead and kept at room temperature until serving.
Makes about 1 cup.
Information
Category

Poultry, Appetizers

Cuisine

Indian